Italy's `Mr Scissors' Cottarelli Thrust Into Anti-Populist Role
(Bloomberg) -- Italy's new premier-designate Carlo Cottarelli, an economist nicknamed "Mr Scissors" for his fiscal rigor, faces only a short period in power as frustrated euroskeptic parties wage a permanent election campaign.
President Sergio Mattarella asked Cottarelli, a former executive director of the International Monetary Fund -- where he worked for more than 25 years -- to form a government on Monday after efforts to form a populist government collapsed. The head of state vetoed a euroskeptic, Germany-bashing economist proposed as finance minister by the Five Star Movement and League parties, thus sparking furious protests from the populists and further inflaming Italy's bitter political divisions.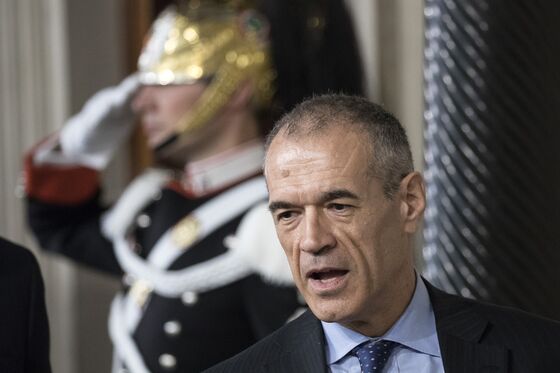 Cottarelli, 63, a professor at Milan's Bocconi University, is being thrust into power as a symbol of fiscal discipline and a committed pro-European who can reassure Italy's European Union partners as well as financial markets, spooked by a populist program that would flaunt EU budget rules.
The euro initially rallied against the dollar as the immediate prospect of a populist government receded, yet the spread between Italian and German 10-year bonds reached the widest in over four years as polls suggest the populists can only benefit from the chaos.
Both the anti-establishment Five Star and the anti-immigrant League are expected to vote against a Cottarelli administration in parliamentary votes of confidence, which would trigger early elections as early as September. Paradoxically, Five Star has in the past praised his efforts to curb state finances. Cottarelli and his cabinet would remain in office until a new government is sworn in after the vote.
Cottarelli refused the official car he was entitled to when he was appointed commissioner for a review of public spending in 2013 under then-premier Enrico Letta. Cottarelli delivered a plan for more than 30 billion euros of savings over three years, only part of which was implemented; he complained about resistance from Italy's bureaucracy.
As recently as May 17, Cottarelli was dismissing speculation he might become premier. "No, I don't think there is any possibility," he told Bloomberg Television's Francine Lacqua at a time when Five Star and the League were writing their program. Serving in government would be an honor "provided there are things I could agree on. I think that the direction is moving a different way from the one I could possibly be involved in."
Cottarelli said aspects of the program were "quite worrisome," like the idea that "if Italy has to grow more it probably needs higher deficit and that is going to be conflicting with the European rules as our deficit is supposed to decline, not just stay at the current level."
If confirmed as premier -- and depending on how long he survives in office -- Cottarelli's agenda could include the Group of Seven summit in Canada on June 8-9, the EU summit on June 28-29, and preparing the 2019 budget which has to go through parliament by the end of the year.
Born in Cremona southeast of Milan, Cottarelli studied at the University of Siena in Tuscany, and at the London School of Economics. He has worked for the Bank of Italy and energy giant Eni, and heads the Observatory on Italian Public Accounts, an independent watchdog, at Milan's Catholic University.