Italy's Establishment Vetoes the Populists
(Bloomberg) -- Italy's two populist leaders forged a coalition from very different policy platforms. They found a prime minister that both could accept. Then President Sergio Mattarella vetoed their finance minister and their bid for power foundered, unleashing chaos and rage in equal measure in Rome.
Mattarella may now ask a former IMF official to form a technocratic government. Five Star and the League meanwhile are talking about impeaching the head of state.
"We worked for weeks, day and night, to ensure the birth of a government that defends the interests of Italian citizens," League Leader Matteo Salvini wrote on Facebook. "But someone (under pressure from whom?) said no to us."
Mattarella signaled his veto was motivated by concerns about the would-be finance minister Paolo Savona's opposition to the euro, which raised questions about the begrudging acceptance of the single currency in the coalition deal.
It's a massive gamble though. The populists can vote down a technocrat and would head into a repeat election arguing they're defending the will of the people against the establishment.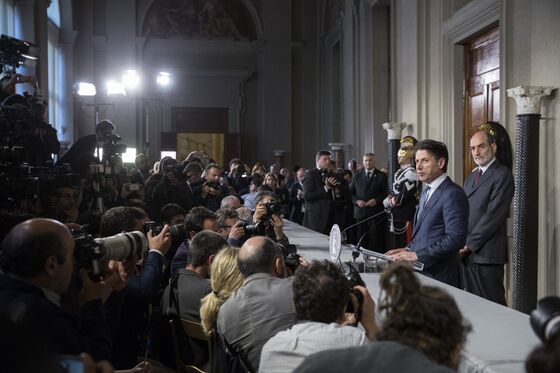 Break up, make up | President Donald Trump appeared to confirm his summit with Kim Jong Un was back on, announcing yesterday that U.S. envoys had arrived in North Korea for preparations and predicting the country would one day become a "great economic and financial nation." Still, Kim's impromptu meeting with South Korean President Moon Jae-in during the brief breakup exposed a potential weakness for the White House: Moon's fully invested and might be loath to return to sanctions and threats if talks fail. 
Veto-proof rebuke? | Republican Senator Marco Rubio gave Trump a reason to think twice about his plan to grant China a favor and let telecommunications equipment maker ZTE Corp. stay in business. The Florida lawmaker — and one-time primary opponent — said he believes a bill banning such Chinese companies from operating in the U.S. would garner a veto-proof supermajority in Congress.
Rajoy's defense | His former aides have been convicted of graft charges, his party is plunging in the polls and his allies have abandoned his minority government. But Spanish Prime Minister Mariano Rajoy clings on, betting that divisions between opposition groups will stop them from voting him out. It's a tactic that's repeatedly paid off since Rajoy lost his majority in 2015.
Colombian runoff | Ivan Duque, a pro-business lawyer who'd like to undermine parts of a peace accord with Marxist guerrillas, is heading into the presidential runoff next month with a commanding lead over Gustavo Petro, a former rebel and Bogota mayor. The race presents voters with a stark choice between a market-friendly conservative and a tax-the-rich advocate for the country's poor. 
Erdogan's base | The numbers say Turkey is booming. The markets seem to think it's on the verge of a crash. In the streets and shops of Mersin, a large city on Turkey's Mediterranean coast, there's little evidence of either, and so shopkeepers say they're inclined to stick with President Recep Tayyip Erdogan, who's seeking re-election in what may prove a knife-edge vote next month.
And finally...  Defenders of more lenient treatment for undocumented migrants couldn't have found a better poster child — or YouTube hero — than Mamoudou Gassama, a 22-year-old Malian who climbed four floors of a Paris apartment building to rescue a child hanging off a balcony. Videos taken by passersby went viral, as did calls to give him residency. He was received today by President Emmanuel Macron, who said he'll get his citizenship and a chance to become a fireman.