Bongo Bids to Entrench Power in Gabon Before Parliamentary Vote
(Bloomberg) -- Gabon's Ali Bongo almost lost his grip on the oil-producing central African nation in its closest-ever presidential elections in 2016. Signs are that he's trying to make sure it won't happen again.
Armed with constitutional reforms in January that give him the power to push through policies without consulting parliament and that impose no presidential term limits, Bongo, 59, is strengthening his position since he replaced his father, Omar Bongo, who ruled for 41 years until his death in 2008. Legislative elections have been postponed twice since December 2016, and while they're supposed to be held this year, no date has been set.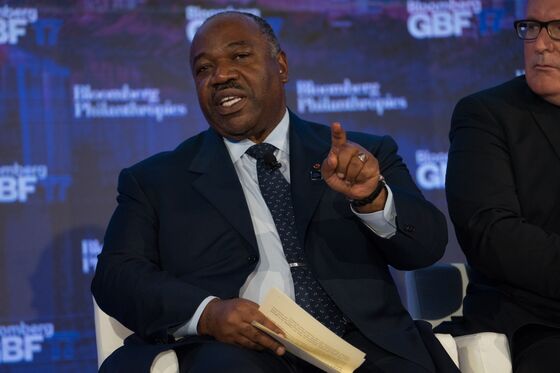 The new constitution "overwhelmingly concentrates power in the presidency and specifically ensures that the head of state retains influence over national policies even when the opposition wins the majority of parliamentary seats," said Maja Bovcon, senior Africa analyst at risk analysis company Verisk Maplecroft.
OPEC's second-smallest oil producer has been gripped by political turmoil since Bongo won the presidential election two years ago by less than 2 percentage points, thanks partly to a 99.5 percent turnout in his home province. The European Union said the vote wasn't transparent. Mass opposition protests triggered a violent response from security forces, leaving several people dead and the country's two main cities paralyzed for days. The parliament building was set on fire.
After he took office, Bongo said the constitutional reforms would reinstate term limits scrapped by his father -- they didn't -- and introduce a two-round voting system -- they did. They also included provisions for the presidency to implement national policies without consulting the legislature and for the heads of defense and security forces to swear allegiance to the president.
"The reforms were the only way for him to reinforce his power," said Joseph Tonda, a political analyst at the Omar Bongo University in Gabon's capital, Libreville.
While the defeated candidate, former African Union Commission chairman Jean Ping, insists the vote was rigged and has shunned talks with Bongo, other opposition figures have accepted positions in the government, including Pierre-Claver Maganga Moussavou, who was named vice president last year.
This month the Constitutional Court dissolved parliament because an April 30 deadline to hold the elections was missed and ordered Prime Minister Emmanuel Issoze-Ngondet to resign and dissolve the cabinet. Issoze-Ngondet was reappointed by Bongo the following day and formed a 40-member interim government that will administer the country until the legislative vote.
"Rather than a rebuke of the government's failure to hold overdue legislative elections, this is merely a dubious measure to strengthen the president's weakened hand," Jeffrey Smith, executive director of Vanguard Africa, a U.S.-based non-profit organization that monitors elections in Africa, said in an emailed response to questions.
The government has denied suggestions that it keeps delaying the parliamentary vote to thwart an opposition victory. It's given two main reasons for the postponement -- in 2016, it said there wasn't enough money to organize the vote, and a year later it said it needed more time to complete electoral reforms.
"We're not scared of anything," the Paris-based magazine Jeune Afrique quoted Prime Minister Issoze-Ngondet as saying this week. "Still, we've lost a lot of time in the past two years."