Budding Moon-Kim Bromance Poses Risk to Trump Pressure Campaign
(Bloomberg) -- When Donald Trump abruptly scrapped their planned summit, Kim Jong Un sought out someone he knew would come over for a chat: South Korean leader Moon Jae-in.
Moon's surprise meeting with Kim on Saturday shows he's willing to do what it takes to keep diplomacy on track and avoid a return to threats of war over North Korea's nuclear program. Moon called the gathering a meaningful attempt to clear up "some difficulties in communication" as the two leaders shared warm words on the northern side of their border.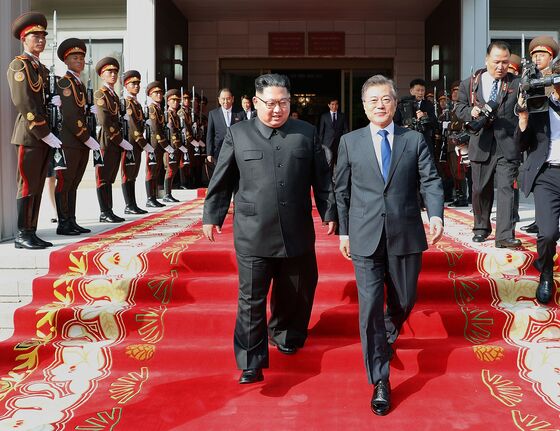 More significantly, Moon secured the restart of minister-level inter-Korean talks on June 1, followed by a dialogue between military leaders and a Red Cross meeting to reunite families separated by the war. A U.S. delegation was in North Korea to prepare for a potential Trump-Kim summit, the State Department said Sunday.
Pyongyang, which canceled the talks earlier this month in a sign of reemerging tensions, said the two leaders agreed to "meet frequently in the future." Moon pledged to visit Pyongyang later this year.
For now, Moon has maintained an appearance as a neutral middleman who can bridge the gap between Trump and Kim, two reactive leaders who create a high risk of miscalculation. Yet over the longer term, Moon's desire to cut a peace deal with North Korea during his single five-year term means Trump could find it harder to enforce his "maximum pressure" campaign if talks break down again.
"There is a fine line between being an honest broker and being the North's accomplice," said Ralph Cossa, president of Pacific Forum in Honolulu. "There are some in Washington who are seeing Moon as the latter and this builds upon the distrust that any progressive leader carries with him."
Kim has now separately met Moon and Chinese President Xi Jinping twice in the past three months, and both leaders have pledged to strengthen ties with his regime. South Korea and China account for almost all of North Korea's land borders, so their support is essential for enforcing sanctions ramped up last year after Kim declared the ability to strike the U.S. with a nuclear weapon.
"With South Korea and China already talking to the North, it's hard for Trump to reignite his campaign at this point or after the summit fails," said Namkoong Young, who has advised South Korea's Unification Ministry and the Foreign Ministry on policy for almost 10 years.
Trump's team believes the "maximum pressure" campaign to strangle North Korea's economy is working, and Kim's regime will have to come to the table eventually, according to a person familiar with the administration's thinking. North Korea's push to get the summit back on track shows that it's probably looking for sanctions relief, even as Kim retains concerns about his own security.
Even so, Trump has clashed with both China and South Korea over the best approach to dealing with Kim, as well as on issues like trade.
Before canceling the summit last week, Trump said that China had eased up enforcement of sanctions on its border. Bloomberg News reported Friday that China is still severely restricting cross-border trade, although optimism is growing that commerce will once again increase.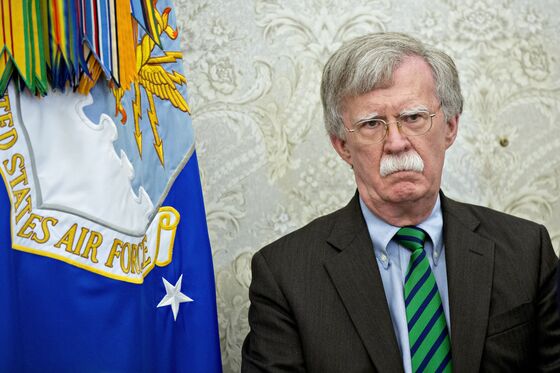 China, South Korea and the U.S. all back denuclearization of the Korean Peninsula, but differ on how to make that happen. The Trump-Kim summit hit a snag after North Korea lambasted Vice President Mike Pence and National Security Adviser John Bolton for suggesting it give up its nuclear weapons before receiving anything in return -- the so-called Libya model.
Libyan dictator Moammar Qaddafi agreed in 2003 to give up his weapons of mass destruction, including nuclear arms, in return for sanctions relief. He ended up getting killed at the hands of U.S.-backed rebels less than a decade later.
"Chairman Kim clearly appealed once again that his intent to completely denuclearize the Korean Peninsula is firm," Moon said. "What's unclear for Chairman Kim, in my opinion, is not his willingness for denuclearization, but whether he can certainly trust the U.S. saying that it'll end hostile relations and guarantee the security of his regime after his denuclearization."
In a conciliatory statement Friday aimed at getting the summit back on track, North Korea said it favored a "Trump formula" to resolve tensions and praised the president for agreeing to meet Kim. His regime has couched denuclearization in global terms and called for a step-by-step process, saying it would have no need for nuclear weapons once its leadership felt secure.
Still, there's no sense of a consensus yet on denuclearization. Moon sidestepped a question Sunday on whether Kim clearly mentioned if he would agree to the U.S. demand for complete, verifiable, irreversible denuclearization, saying that the two sides would need to discuss it at working-level talks.
The U.S.-South Korea alliance could take a hit if Moon intentionally exaggerated Kim's commitment to denuclearization, according to Namkoong, who also teaches inter-Korean politics at Hankuk University of Foreign Studies.
"The stakes of this summit are big," he said. "If the Trump-Kim summit succeeds, Moon will win big. If it doesn't, he will lose a lot."