Rajoy Refuses to Be Written Off as Spain Rivals Seek Ouster
(Bloomberg) -- Spanish Prime Minister Mariano Rajoy is fighting to save his government from collapse after a slew of harsh jail sentences handed down by judges in Madrid exposed his party's Achilles heel on corruption.
The Socialists, the biggest opposition group, filed a no-confidence motion against him on Friday and Ciudadanos, another party, threatened to do the same unless he calls early elections. The bid to unseat him came less than two days after he pulled off a political coup for his minority government by guiding its budget through parliament.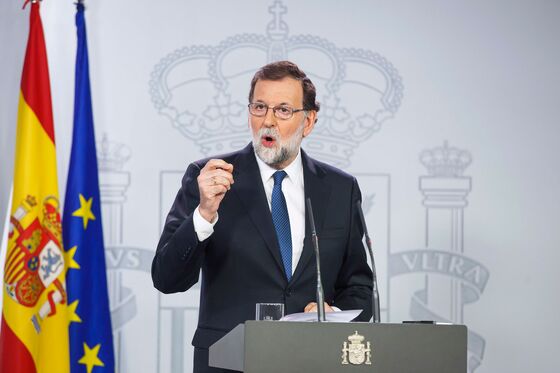 Rajoy's sudden vulnerability sows seeds of uncertainty for investors who have cheered his government's record of nurturing an economic expansion that has stretched into its fifth year. Yet opinion polls have shown support for his government plummeting as the Catalan independence crisis and ongoing corruption scandals continue to blight his People's Party.
"Rajoy is a well-seasoned politician so he has shown his experience in these slippery situations," said Miguel Marin, a founder of Analisis Economico Integral, who previously worked as an adviser to the PP. "Nonetheless, he is in a very weak situation."
The trigger for the opposition assault on his government was the release of a court ruling on a long-running corruption case involving the PP's finances. The National Court in Madrid sentenced former Treasurer Luis Barcenas to more than 33 years in jail and punished the party with a fine for being the beneficiary of a financing scam that lasted for a decade.
A political blockade resulting from the no-confidence motion could slash more than 4.8 billion euros ($5.6 billion) from Spain's gross domestic product, according to an internal government report obtained by Bloomberg News.
"The uncertainty being created is comparable to 2016," when Spain failed to form an administration for several months, according to the report. "National political uncertainty, if it's intense and lasting, has a negative effect on economic growth, household consumption, and investment and, therefore, on employment," the report adds.
The Socialists's motion is "irresponsible" given how difficult it's been for Spain to recover from the economic crisis earlier in the decade, Defense Minister Maria Dolores de Cospedal said in an interview with state-television broadcaster RTVE. "We have to focus on the interest of Spain and Spain's best interests are to have stability," said Cospedal, who also serves as secretary general of the PP.
Rajoy's chances of survival rely on the voter divisions that recent opinion polls have highlighted. In principle, fresh elections are bad news for all national parties except for Ciudadanos. Support for the party led by Albert Rivera has surged as Spaniards cheer its vigorous opposition to successive pro-independence governments in Catalonia.
The PP would win about 85 seats down from 134 seats currently if an early vote was held, according to the website Electomania. Ciudadanos would boost its number of seats almost threefold to 93 while the Socialists would fall to third place with 83 seats, one less than now. A majority in the Spanish parliament is 176 seats.
The prospect of new elections also looks like bad news for nationalist and separatist parties in Catalonia and the Basque Country that fear the advance of Ciudadanos could erode their support in parliament and their ability to extract concessions in return for their votes. Spaniards are scheduled to hold city hall and European Parliament elections a year from now so national elections may distort their campaign plans.
The Socialists would seek to call elections in a "brief period of time," party official Carmen Calvo said in a press conference in Madrid on Saturday. The party is calling on all members of Congress as it seeks support for its motion, rather than seek talks with any specific party, Calvo said.
For now, support from Ciudadanos appears unlikely. The party's secretary general Jose Manuel Villegas Saturday criticized the motion and instead said an immediate election should be called. If the government doesn't do so, only then will Villegas' party be willing to discuss a no-confidence vote, under the condition that the Socialists agree on a candidate for the top job who wouldn't be the leader of either group.
Another option for Socialist leader Pedro Sanchez to unseat Rajoy would be to woo support from Catalan nationalists to get enough votes to win a no-confidence motion. That looks an unlikely option because by doing so the Socialists would risk alienating their own voter base in the rest of Spain and especially in the party's stronghold of Andalusia.
The Basque nationalist party PNV, whose five lawmakers in parliament were crucial for the government to have its budget approved this week, could be essential to muster backing for a no-confidence vote. Party head Andoni Ortuzar said Saturday that the PNV will seek further details from the Socialists before making a decision. The PNV needs to know whether the Socialists would be willing to grant self-government to Basques and Catalans, Ortuzar said.
"The no-confidence vote is the result of Sanchez's own political needs," said Rajoy in a press conference Friday in which he insisted that he'd try to see out his four-year term that ends in 2020. "Sanchez just want to form a government with whoever will vote for it -- we may even see him strike a deal with Puigdemont." Carles Puigdemont is the former Catalan president who tried to declare independence from Spain last October.
Spaniards will also have fresh in their memories the six-month period between December 2015 and June 2016 when Sanchez tried unsuccessfully to forge a three-way alliance with Ciudadanos and the anti-austerity party Podemos to expel Rajoy. When new elections were eventually held, Rajoy unexpectedly increased his support in parliament.