A Big Chill Has Silenced Turkey's Market Analysts
(Bloomberg) -- Every market analyst in Turkey knows who Mert Ulker is: He's the expert who was fired as research chief at one of the country's biggest brokerages for publishing speculation that President Recep Tayyip Erdogan might have staged the failed 2016 coup to tighten his grip on power.
He's now a cautionary tale.
With Erdogan just weeks away from elections likely to cement his near-absolute authority, barely a word of criticism creeps into research published by strategists and economists based in Turkey — not even after Erdogan's threat to force the central bank to cut interest rates sent the lira into freefall.
"Each time I am about to write a bearish comment, my managers and colleagues remind me of what happened to Mert Ulker," said one analyst who works at a state-run financial institution in Istanbul, declining to be named.
Even if they don't mention Erdogan explicitly, Turkish researchers are noticeably on edge as the market swings violently ahead of the June 24 vote. When the lira tumbled on Monday, Istanbul-based brokerage Alnus Yatirim signed off its morning note with the words: "God help Turkey. We're faced with a central bank that is watching the market when it needs to lead and direct it."
Not long after Bloomberg used its comments in a story headline, Alnus Yatirim sent an email to its mailing list with the subject line "correction and apology," saying the draft was sent by mistake.
Turkey's slide into authoritarianism is perhaps most evident in what analysts are too afraid to put to print. Behind the scenes, many said they were horrified at the direction Erdogan was leading the economy, but were unable to warn their clients because their institutions bar them from scrutinizing his policies. All 10 analysts interviewed for this story asked that they not be named for fear of reprisals.
An electoral victory will allow Erdogan to eliminate the prime minister's job, weaken the role of parliament and further undermine free speech that's been under assault for years. Since foiling a coup in July 2016, the president has fired or jailed tens of thousands of dissidents, including workers in every branch of government and leading members of the media, academia and the judiciary.
Against this backdrop, writing about an economy hammered by terror attacks, the war with Syria and soaring inflation feels like treading a tightrope, according to the analysts, who work at public and private banks. One strategist at a private bank in Istanbul said he was instructed by management not to publish anything critical on Erdogan's increasingly explicit attempts to thwart the central bank's independence.
The president told Bloomberg in a May 15 interview he would take more responsibility for monetary policy if he wins. While his rhetoric on wanting lower rates isn't new, the difference now is he'll have fewer checks and balances to stop him.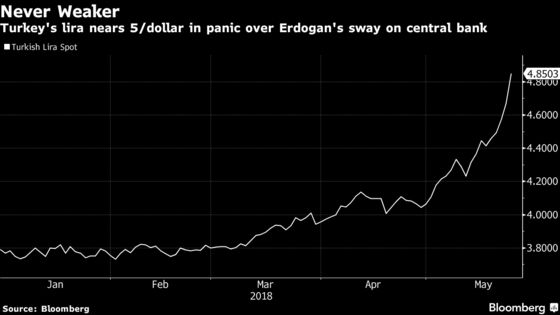 In response, the lira plunged to successive record lows approaching 5 to the dollar – until the central bank hoisted rates by 300 basis points to head off a currency crisis in an emergency decision on Wednesday, then only after getting a reluctant green light from Erdogan. The reprieve didn't last: the lira was down another 4.4 percent by 11:12 a.m. in New York.

Yet in one research note after another, Turkey's analysts only commented on the direction of the move without discussing how political interference damages confidence of the foreign investors Erdogan needs to sustain his economy. A strategist at a private bank in Istanbul said he predicted the market slump, but couldn't warn his clients. He was particularly frustrated by Erdogan's pre-election spending spree to woo voters, but knew it would be his "last day at work" if he wrote anything.
"One of the reasons why it took a while for the downward momentum in Turkish financial assets to develop in 2018 is that retail investors were given a false sense of security by the dearth of bearish or candid research commentary," said Julian Rimmer, a London-based trader at Investec Bank Plc.
Last month, Rimmer gave his clients a glimpse of the scale of self-censorship. "I had lunch yesterday with two brokers who acknowledged very openly they are not allowed to express independent views on the market, and if they were to publish anything bearish, they would be stripped of their licence and be out on the street," he wrote in an email to clients on April 20.
Whether inside Turkey or abroad, forecasters failed to predict the slump that's pummeled the lira sent bond yields soaring to records near 15 percent. At the end of April, analysts surveyed by Bloomberg forecast the currency would strengthen to 4 to the dollar by quarter-end and the 10-year bond yields would fall to 12.5 percent.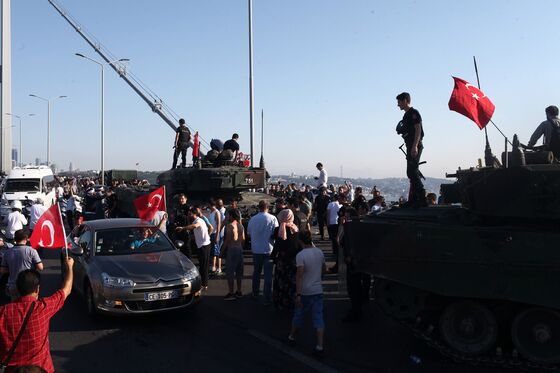 It's not unusual for independent research to get sidelined under dictatorial political regimes. Sberbank PJSC, Russia's largest lender, just dismissed a veteran oil analyst who wrote controversial notes criticizing the country's state-run energy giants. 
For analysts in Turkey long accustomed to having more freedom, it's a painful adjustment: "If there are really bad data released, I choose not to write about it rather than trying to find a positive spin," said one analyst, whose institution self censors her research.
Ulker, a former AK Investment employee, was stripped of his capital markets license after publishing a 2,750-word report that included speculation on who was behind the failed coup. One suggestion, which he made clear wasn't the most likely, was that Erdogan had staged it to purge the military of opponents and extend his grip on power. A criminal complaint was filed against Ulker at the time for insulting the president.
When Bloomberg reached him on his mobile phone, he declined to comment on what he's doing now or the status of those charges.