Trump Defends `Animals' Tag on Latino Gang; `They're Not People'
(Bloomberg) -- President Donald Trump recounted violent crimes committed by the predominantly Latino gang MS-13 in graphic detail at a meeting in Long Island on Wednesday, and defended his description of the group's members as "animals."
He also said his administration is developing a plan to cut foreign aid to an unnamed country that he said is encouraging its citizens to migrate to the U.S.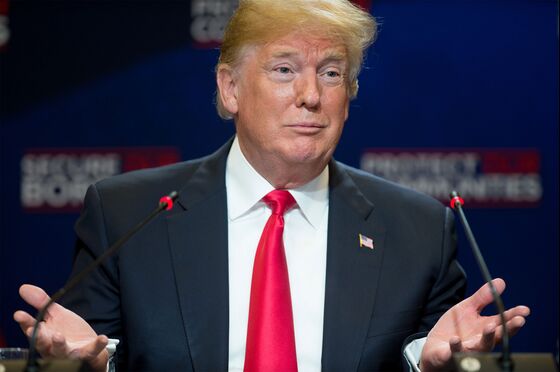 Trump has a history of stereotyping and denigrating immigrants, especially those who are undocumented, and was criticized once again after a meeting with law enforcement officials at the White House last week. After the sheriff of Fresno County, Margaret Mims, complained that she was legally prohibited from reporting some MS-13 members to federal immigration authorities, Trump chimed in.
"We have people coming into the country, or trying to come in -- and we're stopping a lot of them -- but we're taking people out of the country. You wouldn't believe how bad these people are," he said last week. "These aren't people. These are animals. And we're taking them out of the country at a level and at a rate that's never happened before."
Trump and White House Press Secretary Sarah Huckabee Sanders later insisted that the president's remarks applied only to MS-13 members, but his reference to "people coming into the country" was perceived by his critics to mean undocumented immigrants, broadly.
On Monday, following the controversy, the White House issued a peculiar press release titled, "What You Need to Know About the Violent Animals of MS-13." The statement used the word "animals" 10 times, including in the title.
"I called them animals the other day and I was met with rebuke," Trump said at Wednesday's meeting with local law enforcement officials and politicians in Nassau County. "They said, they're people. They're not people. These are animals."
Trump has sought to use the specter of brutal crimes committed by MS-13 members to advance his proposals to build a wall on the Mexican border and limit legal immigration to the U.S. But he has struggled to persuade Congress to provide much money for a wall or to agree to immigration restrictions.
He has said recently that he may allow the government to shut down at the end of the fiscal year Sept. 30 if Congress doesn't approve substantially more money for the border wall. He has often complained that other countries -- especially Mexico -- don't do enough to limit migration to the U.S., and he said on Wednesday that he is developing a plan to punish them.
"Many of these countries we give tremendous amounts of aid to, tens of millions of dollars, and we're working on a plan to deduct a lot of the aid because I happen to believe that it's not so hard -- they're letting you think that they're trying to stop" migration, he said. "They're not trying to stop it. I think they encourage people for leaving. They don't want the people that we're getting in that country."
He did not name any country that might be subject to the sanction.
Wednesday's trip was Trump's second to Long Island to discuss MS-13. He has portrayed the region as terrorized by the gang.
"They have transformed peaceful parks and beautiful, quiet neighborhoods into bloodstained killing fields," Trump said last year in Suffolk County. "They're animals."
In that speech, Trump encouraged police to rough up suspects during arrests. Several law enforcement agencies including the Suffolk County Police Department quickly issued statements distancing themselves from the president's remarks.
Long Island recorded a historically low number of homicides in 2017, according to Newsday, including just 23 in Nassau County, where Trump spoke on Wednesday. The newspaper reported that it was the lowest number since 2002.