Politics Engulf Euro Junk Bond Market With Big Italy Exposure
(Bloomberg) -- European high-yield debt was the world's best-performing market in the decade that followed the financial crisis, surviving bailouts, crashes, and Brexit to deliver returns of 100 percent.
Italian populists may turn out to be its greatest test.
One fifth of the market is concentrated in the nation via companies like Telecom Italia SpA and Moby SpA, and the prevailing political wind presents a looming threat, according to UBS Group AG strategists. They've downgraded their recommendation for euro high-yield to neutral from overweight, citing political "uncertainties."
The average yield paid by companies in the Bloomberg Barclays Euro High Yield Index has soared to 3.46 percent, the highest since April 2017.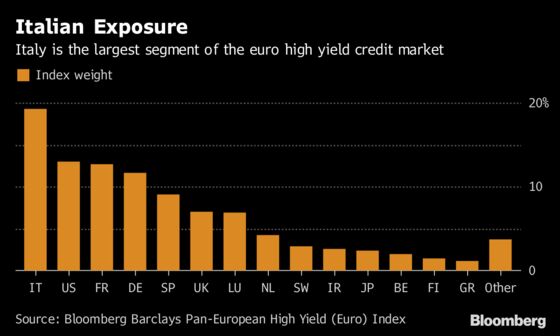 The bank said it prefers to get high-yield exposure from the iTraxx Crossover index of credit default swaps, where Italian names account for just 7 percent. In the investment-grade Bloomberg Barclays Euro Aggregate Corporate Index, Italy's weighting is even lower -- at 5.2 percent.
The country's potential coalition government wants to boost spending and create notes tantamount to a parallel currency. That's prompted even sovereign bonds to behave in a way that resembles the volatility of global high-yield debt, according to Intellectus Partners LLC.
"Political instability could lead to short-term pain," said Thomas Samson, a high-yield portfolio manager at Muzinich & Co. "You may have investors checking their portfolios and potentially reducing risk."
Still, Europe's battle-hardened credit investors have survived a lot since the crisis.
"You're not in the high-yield asset class to invest with a macro hat," Samson said. "You invest with credit research skills to avoid bad apples."