South Africa's North West Premier Quits After Protests
(Bloomberg) -- Supra Mahumapelo stepped down as premier of South Africa's North West province five weeks after violent protests erupted against his leadership in the region.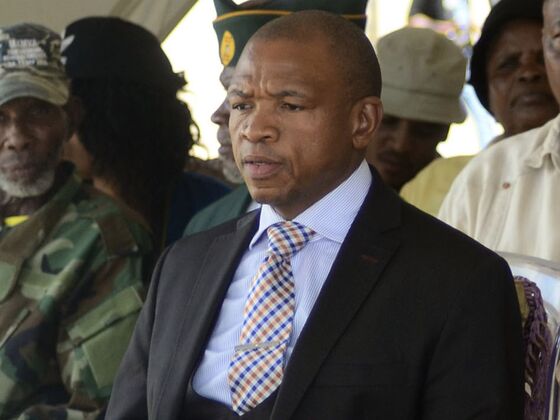 While Mahumapelo's decision to quit his government post will help President Cyril Ramaphosa assert his authority over the province, he remains chairman of the ruling African National Congress in the North West. Mahumapelo opposed Ramaphosa's bid to win the election as ANC leader in December.
Mahumapelo told reporters at the ANC's headquarters in Johannesburg on Wednesday that he's going on "early retirement" because he didn't want to obstruct a series of graft probes in the province and he didn't expect to be given another post.
"Those investigations have to continue. I am also accused in the process," he said. "If they take place in my presence there will be an accusation that I am using the office also to protect myself. "
Mahumapelo is a close ally of Jacob Zuma, who was forced to resign as the nation's leader in February. Disgruntlement with the premier's leadership mounted over his handling of the graft allegations and the sidelining of his ANC rivals in the North West. He went on leave May 9, and four days later the national government took control of the province.
Irregular spending in the North West surged by 600 percent over three years, according to Treasury Director General Dondo Mogajane. South Africa's special police unit known as the Hawks said it raided Mahumapelo's offices in March in connection with alleged maladministration, fraud and corruption amounting to about 160 million rand ($13 million). He denies any wrongdoing.
The ANC welcomed Mahumapelo's resignation, saying it would help unite the party, which is due to contest national elections next year.
"We are grateful that comrade Supra has made this decision," Jessie Duarte, the ANC's deputy secretary-general, told reporters. "It is time to move forward."