North Korea Gets Ready to Destroy Its Main Nuclear Test Site
(Bloomberg) -- North Korea is preparing blow up its main nuclear-weapons test site in the next day or two, even as U.S. President Donald Trump raises new doubts about the prospects of a nuclear deal with Kim Jong Un.
A selection of journalists representing Chinese, Russian, South Korean, U.K. and U.S. media organizations were traveling to the site in mountainous area of Punggye-ri to witness the event. North Korea said the detonations were intended to put out of use the tunnels used for all six of the isolated nation's nuclear tests.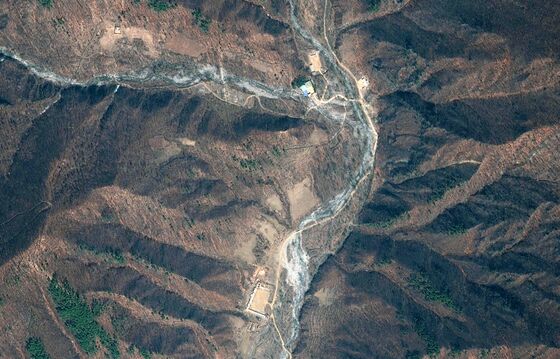 While Kim has portrayed the demolition as a natural step after declaring his nuclear weapons program "complete," South Korean and U.S. officials have interpreted as a gesture of good faith ahead of next month's planned summit with Trump. Arms control experts say the move won't impede further weapons development by Kim and the effort has been compared to North Korea's destruction of 2008 nuclear reactor cooling tower.
Lee Ho-ryung, head of North Korean studies at the Korea Institute for Defense Analyses, said the event may be a public relations exercise.
"It's hard to say that the site's removal will lead to its denuclearization," Lee said. "Through extreme visual effects, it wants to build international expectations over its sincerity, just like his father did by showing explosion of a water cooling tower a decade ago" only to restart his nuclear program a few months later, she said.
Even so, South Korea described the plan as "a preemptive and aggressive move" to prove its intent to accept verification of its nuclear program by international experts in the near future. Trump has praised it as a "very smart and gracious gesture."
During a meeting with South Korean President Moon Jae-in on Tuesday, Trump expressed pessimism about whether his summit with Kim would take place as planned on June 12 in Singapore. North Korea abruptly canceled talks with South Korea last week and threatened to call of the summit in a dispute over the pace and scope of any "denuclearization" deal.
Nonetheless, Kim appeared to be going ahead with plans to shut down his northern nuclear test site this week, with foreign reporters en route to North Korea to witness the event.
"Just learned we'll depart for the North Korean nuclear site at Punggye Ri at 5:10pm local time, just over one hour from now," CNN reporter Will Ripley tweeted Wednesday afternoon. "We may not have have phone or internet for the journey, but we should have some extraordinary images from a place never seen by foreign press."
Pyongyang unveiled its plan to mothball the site at a party meeting in April, with Kim saying the facility would be closed because the nation had completed its development of its nuclear arsenal.
"While the U.S. has instinctive resistance against the North, it will realize that I'm not the type of person who would use nuclear weapons on the South, the Pacific or the U.S.," Kim told Moon at their April 27 summit. "Why would we live in difficulties because of our nuclear arsenal if and when we build trust with the U.S. and promise an end to the Korean War."