Italy Rout Wipes Five Billion Euros From Bond Futures Market
(Bloomberg) -- The sell-off in Italian assets has stripped over five billion euros worth of positions from the country's bond futures, the most ever in a week, as the risks around a new government come to fruition for investors.
The number of active bets on Italian futures has dropped by the equivalent of 5.4 billion euros ($6.3 billion) in cash bonds in the past week, showing traders are taking money off the table. Investors had been stocking up on Italy despite an inconclusive election result in March, as the debt is the second-highest yielding in the euro area after Greece, though bulls are now looking scarce.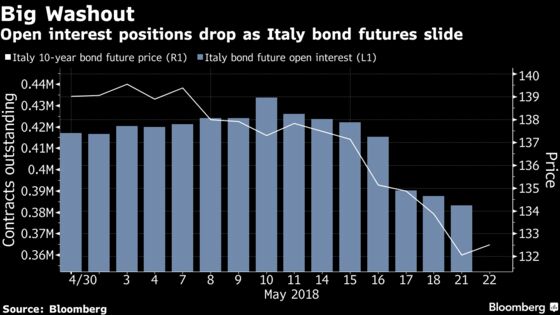 The pullback signals complacency over political risks in Italy is getting washed out of the market, after details emerged of the fiscal plans of the coalition formed by the anti-establishment Five Star Movement and League parties. The bond market resumed losses on Wednesday after taking a breather on Tuesday from a week of being pummeled.
Open interest in June futures has fallen by 40,600 contracts since May 14, according to data up to May 21 from the Eurex exchange released Tuesday. While some of the drop is attributable to the effect of a contract roll, with a pick up in positions for September, it's still the biggest weekly fall since the bond futures were launched by Eurex in 2009.
For clues on whether the market will stabilize, traders will be watching open-interest data due at 12.30 p.m. in London on Wednesday, which may show whether fresh positions were added during Tuesday's recovery or if investors are still retreating from new bets.
"In the short term we expect volatility and we're not buying," said Jacopo Ceccatelli, chief executive officer of Marzotto SIM SpA, a Milan-based broker-dealer. "For those who are very liquid on cash, we are recommending entering gradually."
Italy 10-year yields climbed as much as 10 basis points on Wednesday to 2.43 percent, the highest level since June 2015 and taking a surge this month to over 60 basis points.