Giuliani Goes Full Attack Mode for Trump as Mueller Is Quiet
(Bloomberg) -- Rudy Giuliani has spent his first month as Donald Trump's lawyer leading an all-out assault on Special Counsel Robert Mueller's investigation -- setting deadlines, issuing public demands and repeatedly offering his take on their private negotiations.
Mueller has kept his silence.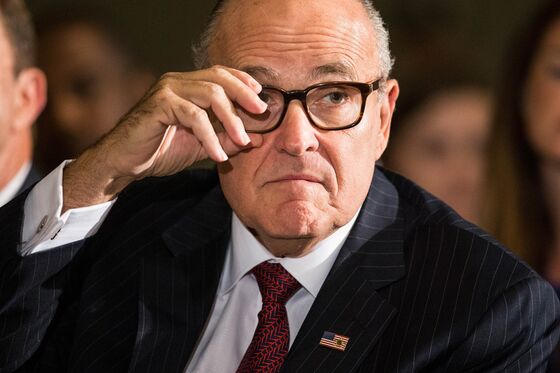 Giuliani has been capitalizing on that vacuum, filling it with a succession of attacks aimed at pressuring Mueller to wrap up his work more quickly and attempting to undermine whatever may come next in the probe. He's laid out stringent conditions under which Trump would sit for an interview with Mueller's team.
And the always combative former New York mayor has latched onto attacks by House Republicans over the FBI's alleged use of an informant early in its probe of Trump's campaign.
"I've been doing this all my life," Giuliani, a former federal prosecutor, said in an interview earlier this month. "I have fought far more difficult people than this. The mafia, the FARC, terrorists."
Giuliani has been enough of a loose cannon in commenting on controversies involving the president that Trump told reporters early on that "he started yesterday. He'll get his facts straight. He's a great guy."
Giuliani's more aggressive tone puts him in line with Trump, who on Wednesday kept up his attacks on the deep state as drivers of the entire controversy. The two have accused the FBI of placing an informant within the 2016 campaign apparatus.
"They go after Phony Collusion with Russia, a made up Scam, and end up getting caught in a major SPY scandal the likes of which this country may never have seen before!" Trump said in a Twitter posting. "What goes around, comes around!"
The tactics may be working. Public support for the Mueller investigation has been waning. The number of Americans who think it's politically motivated has grown to 53 percent in early May from 48 percent in December, according to a CBS News poll conducted May 3-6.
Giuliani's publicity onslaughts are unlikely to affect Mueller's findings -- and Mueller could turn the tables in an instant by issuing new subpoenas, plea deals or indictments.
Since being named a year ago to investigate Russian meddling in the 2016 elections, Mueller hasn't uttered a word publicly, speaking instead through his indictments and the guilty pleas of 22 individuals and entities. But it's been three months since Mueller last unveiled new charges, and his recent pronouncements have been limited to procedural court filings.
Justice Department policy discourages commenting on pending investigations -- and former FBI Director Jim Comey is still the subject of criticism from both Democrats and Republicans for his public pronouncements during the 2016 investigation of Hillary Clinton's use of a private email server.
Mueller, who like Giuliani is 73, has intentionally kept quiet over the past year to maintain the credibility and seriousness of his investigation, avoiding the temptation to respond to each twist in the 24-hour news cycle, current and former U.S. officials who are close to Mueller or have followed his work have said. It's a trait he's exhibited throughout his career, including as director of the FBI in the months after the Sept. 11 attacks.
"I doubt Bob Mueller feels any pressure other than the pressure to do his work as quickly and thoroughly as possible," said Mark Corallo, a Justice Department spokesman during Mueller's tenure at the FBI who briefly served as a spokesman for Trump's legal team.
"This is a guy who had to read and watch and listen to a daily barrage of second-guessing on the way he was leading the FBI in countering terrorist threats," he said. "He had to listen to a daily barrage of people accusing him and the FBI of trampling civil liberties, of putting security before liberty, and he just kept his head down and followed the facts."
Corallo said Mueller wasn't swayed back then by his arguments that certain facts should be released to the press to help keep the American public informed and supportive of the Justice Department's counterterrorism efforts for fear it could jeopardize the agencies work.
"Bob Mueller is not moved by headlines or stories, he is only concerned about the facts, that is what he is interested in," Corallo said.
Giuliani has said he hopes to pressure Mueller to quickly wrap up his investigation and dramatically narrow the scope of the interview he's seeking with Trump.
"We have to speak out now," Giuliani said. "We have no other remedy."
It's a complete reversal in strategy from Trump's previous lawyer John Dowd, who kept his conversations with Mueller private and never offered public statements of more than a few lines. White House counsel Ty Cobb had actively urged Trump to refrain from attacking Mueller, arguing that a posture of cooperation and mutual respect was the quickest way for Trump to wrap the investigation and clear his name. But with both men gone from Trump's legal team, there's no voice remaining in Trump's inner circle arguing for restraint.
Even so, Mueller isn't going to be swayed from taking the time he needs to fully investigate legitimate matters, according to current and former U.S. officials, although the public pressure coming from Trump and his allies to wrap up the investigation is likely having some impact.
As a career prosecutor, Mueller is expected to follow Justice Department guidelines that no major public investigative actions be taken in the weeks leading up to an election, a U.S. official said. In the interest of time, Mueller might agree to limit his questioning of Trump in order to wrap up an interview with the president during the summer, the official said.
The public pressure against the investigation has appeared to knock Deputy Attorney General Rod Rosenstein on his heels more than anyone, said Jeffrey Cramer, a former federal prosecutor. Rosenstein oversees Mueller's investigation because Attorney General Jeff Sessions has recused himself due to his involvement in the Trump campaign and in meetings with Russian officials.
Rosenstein has been the public counterpart to Giuliani, although in a much more restrained manner. He's repeatedly appeared before Congress to defend Mueller, the investigation and the need for independence in probing criminal activity. But Rosenstein, a little-known figure previously, is having his reputation and fortitude tested in unprecedented ways, and he lacks Giuliani's media savvy.
Rosenstein met Monday with Trump. Afterward the White House said the deputy attorney general would show two Republicans -- but no Democrats -- some highly classified information regarding the Russia probe, acceding to pressure from Trump to accommodate their demands.
House Intelligence Chairman Devin Nunes and Oversight Chairman Trey Gowdy are scheduled to meet Thursday in the meeting brokered by the White House with FBI Director Christopher Wray and a senior Justice Department official to discuss the records.
It's "off-the-charts extreme" for a president to order the Justice Department to give his legal team secret information about an ongoing investigation into the president or those close to him, said Cramer, who's now managing director of the international investigation firm Berkeley Research Group LLC.
"We've never had a president order the Department of Justice and FBI director to turn over information about an active investigation," Cramer said. "It needs to give everyone at least a moment of pause. Regardless of who you voted for in 2016, this is a problem."
Mueller and Rosenstein won't, however, short-circuit the core of the investigation into Russia's interference in the 2016 election and whether Trump or anyone on his campaign cooperated in the crime, Cramer said.