ECB Readies for Italy Standoff With Populists Close to Power
(Bloomberg) -- European Central Bank officials with memories of Greece's brinkmanship aren't about to blink as they face another populist government from a country many times its size.
In the same month that the Frankfurt-based institution potentially closed the book on its involvement with the Greek debt crisis, its guardians have been keeping a nervous eye on Italy. Populists there are trying to form a coalition government with euro-skeptic tendencies and spending promises of as much as 126 billion euros ($147 billion) a year.
With the biggest debt burden in the euro zone, such pledges in Italy have unsettled bond markets scarred by the European sovereign crisis of recent years. For the ECB, which spearheaded efforts to contain that turmoil, the prospect of a wayward government at the helm of the region's third-biggest economy is a political nightmare for officials who will insist on euro-zone members sticking to the rules of monetary union.
"They might well be in teach-them-a-lesson mood," said Fabio Balboni, an economist at HSBC in London. "Those who expect the ECB to intervene might be in for a disappointment -- unless the situation deteriorates significantly to become a threat for the euro area as a whole."
Giuseppe Conte, the political novice chosen by the populist Five Star Movement and Northern League as Italian prime minister, was asked on Wednesday evening by president Sergio Mattarella to form a government. That outlook has sent yields on bonds to the highest in almost three years just as currency crises in Argentina and Turkey curb investors' risk appetite.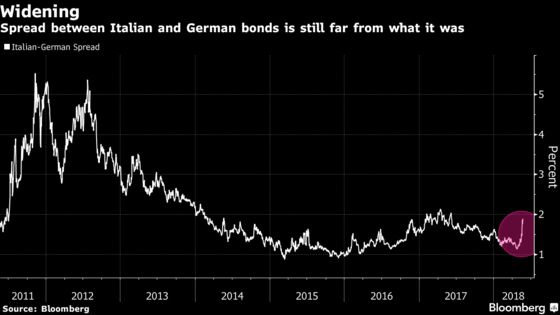 The yields still remain relatively low, with the spread between Italy's and Germany's 10-year bonds below 2 percent; it rose above 5 percent at the height of the debt crisis in 2011 and 2012. Officials have also taken advantage of the ECB's quantitative easing to extend the average maturity of Italian bonds and reduce interest payments, making them less vulnerable to shifts in market conditions.
ECB purchases of Italian debt under QE, as well as an expanding euro-area economy, currently provide a counterweight that reduces the risk of contagion. Those buffers buy time and space for ECB President Mario Draghi, himself Italian, to watch the situation in his home country unfold.
Through a combination of patience, engagement and innovation, the ECB has so far prevented spillovers that threaten the currency union, while stopping short of national bailouts that would go against its mandate and European Union law.
Its rationing of emergency liquidity to Greece's banks in 2015 was a crucial tool in persuading the government to agree with creditors and avert its exit from the euro. Officials from the ECB and EU institutions visited Athens last weekend for what might be the last time before the bailout program's scheduled completion this year.
ECB officials are mindful that leniency toward Italy would risk encouraging others to misbehave, while also reinforcing resistance against reforms to strengthen the euro area proposed by French President Emmanuel Macron.
Important for both policy makers and investors is who will become Italy's finance minister. Paolo Savona, 81, is the Five Star-League choice for that position, according to officials of the parties. He was a minister during the 1990s who helped secure the country's entry into the single currency but has since become sharply critical about it.
"Europe has clear fiscal rules, and they should be respected," Benoit Coeure, the ECB's official in charge of international affairs, said on Wednesday, adding that it's too early to comment on the government's plans. Vice President Vitor Constancio, said last week that the institution must monitor the Italian situation.
Coeure will be in Brussels on Thursday for the first meeting of euro-area finance ministers since the coalition pact was announced, and Italy is likely to be a key concern even if it isn't on the formal agenda. French Finance Minister Bruno Le Maire said on Sunday that if the Italian government didn't respect its economic and fiscal commitments, it would threaten the financial stability of the whole euro zone.
"A deteriorating growth environment or a loosening of the fiscal stance in high-debt countries could impact the fiscal outlook and, by extension, market sentiment toward some euro-area sovereign issuers," the ECB said in its twice-yearly Financial Stability Review on Thursday. "Despite the overall favorable developments in recent quarters, some euro-area sovereigns remain vulnerable."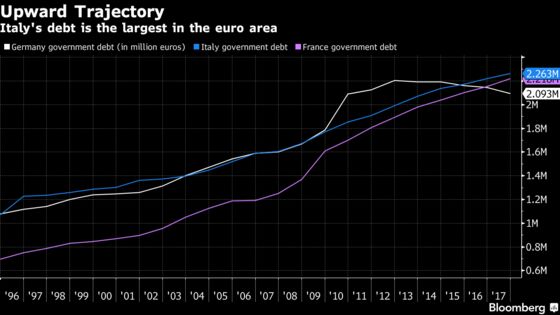 With ECB bond purchases due to end this year and the prospect of higher interest rates to come, investors' relatively benign attitude could sour rapidly. A sovereign-rating downgrade might put Italy's debt just above investment grade and taint the ability of banks to fund themselves.
But as long as the region's expansion isn't derailed, the ECB's gradual exit from monetary stimulus should stay on track. Bank of France Governor Francois Villeroy de Galhau said this month that officials won't delay normalization "to accommodate debt problems of any member state."
In a full-blown sovereign crisis threatening Italy's euro membership, the ECB could unleash its so-called bazooka bond-buying tool, the Outright Monetary Transactions program. But the hurdle for its use is high, and its scope is untested.
Italy, the euro-area country with lowest popular support for the single currency, would need to subject itself to strict international control. Moreover, an EU ruling confirming the legality of QE may have potentially limited the ECB's capacity to intervene with OMT.
"The point for the ECB is that yields are going up for the right reason, responding to misguided national policies," said Oliver Rakau, an economist at Oxford Economics in Frankfurt. "The ECB's emergency policy, OMT, was designed to respond to another risk: redenomination -- the risk that a country may leave the euro."