Corbyn Offers Customs Fix for Brexit Dilemma Over Irish Border
(Bloomberg) -- Jeremy Corbyn, leader of the U.K.'s opposition Labour Party, said a comprehensive customs agreement with the European Union will help solve the conundrum of the Irish border after Brexit.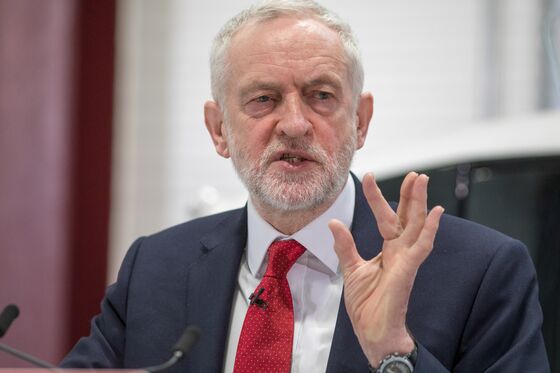 A new "customs union, with a British say on future trade deals and arrangements, coupled with a new, strong relationship with the single market would prevent communities being divided," the lifelong euroskeptic will say in Belfast on Thursday, according to extracts of his speech released by his office.
Labour is inching toward a shift in its Brexit position and moving closer to the European Union's single market, according to two senior members of Corbyn's team. The leadership is under increasing pressure from the party's lawmakers, the majority of whom opposed leaving the EU and want to maintain close ties.
Prime Minister Theresa May guaranteed no hard border will re-emerge on the island of Ireland after Brexit in a deal agreed in December to unlock divorce talks. As a fall-back option, May agreed Northern Ireland would play by the same EU rules that apply in the south if all else fails.
Still, once the EU gave details of its understanding of the backstop -- that it would effectively keep Northern Ireland in the bloc's customs union and parts of the single market if needed while the rest of the U.K. left -- both May and Corbyn rejected it.
"Labour will not support any Brexit deal that includes the return of a hard border to this island," Corbyn will say. "But we are also clear there must be no border created in the Irish Sea either."
May, whose government is propped up by votes from the Democratic Unionist Party, has also said she will not accept any agreement that results in border controls between the province and mainland Britain. "The prime minister been absolutely clear about her commitment to the union," her spokesman, James Slack, told reporters in London on Wednesday.
Corbyn, though a long-time advocate of a united Ireland, now says that it should only be achieved under the constitutional arrangements of the 1998 Good Friday Agreement, which requires a majority on both sides of the border before it could become a single country.
Corbyn's visit is his first since becoming party leader in 2015.