Blame Game Starts Over North Korea Summit
U.S. President Donald Trump has thrown more doubt over whether there will be a summit with North Korean leader Kim Jong Un on June 12. The historic meeting was already in trouble — for Pyongyang, the disarmament-for-investment deal on offer is even more complicated than it looks.
Trump has blamed China for the latest wobble. North Korea has blamed U.S. demands that it accept a Libya-style deal (Libya's dictator was later killed during a NATO-backed uprising).
Even if they get to the table, the risk is high. And the economic carrots on offer are fraught for Kim.
As Marc Champion explains, Kim, his father and his grandfather all refused to follow the reform model adopted by neighbor China since the 1980s. That's a bit puzzling: Spectacular growth, while keeping the existing leadership firmly in power, would seem attractive.
The problem, according to North Korea expert Andrei Lankov, was that opening up a closed regime like North Korea's risked its leaders — again — ending up dead or in jail. Still, the Kim dynasty has delivered its people a GDP per capita that's just five percent of South Korea's. That reality will weigh heavily in Singapore, if anyone gets there.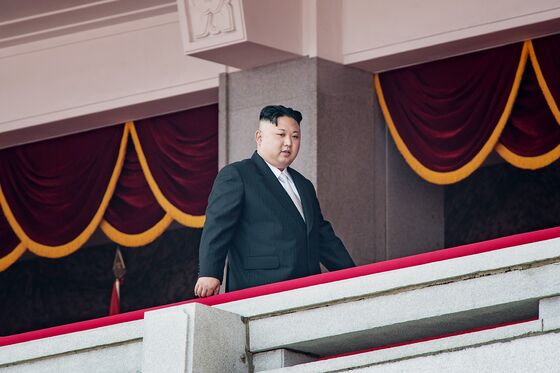 Take control | Theresa May is at a crunch point in the Brexit process, with pressure from all sides to make a clear decision on what the U.K. wants. In an exclusive interview with Bloomberg Television, Foreign Secretary Boris Johnson said the U.K. must quit EU tariff rules as quickly as possible. He warned the prime minister "to get on with it" and laid out a list of demands. Tim Ross has more.
Favor to Xi | China's second-largest telecoms gear maker ZTE Corp. is estimating losses of at least $3.1 billion from a U.S. ban that's halted major operations. Hopeful of striking a deal soon, it's ready to jumpstart idled factories once Washington agrees to lift its seven-year moratorium on purchases of American chips and components. That follows Trump's statement yesterday that he's reconsidering U.S. penalties as a favor to President Xi Jinping.
Caught in the middle | German Chancellor Angela Merkel has been dogged by Trump's disruption agenda from the start. Her latest trip to China starting tomorrow is no exception: Beijing's pledge to buy more American goods as part of a deal to avert a trade war with the U.S. is a direct threat to German exports. But Merkel will also be on the offense, telling China's leaders that trade is about reciprocity and warning of the risk of an EU clampdown on Chinese investment.
Qaddafi's legacy | The collapse of Muammar Qaddafi's regime and the ensuing years of chaos in Libya have unleashed a flood of weapons and fighters into West Africa, strengthening jihadist groups and turning centuries-old communal tensions increasingly violent. As Dulue Mbachu and Yinka Ibukun report from Nigeria, the guns and gunmen are fueling clashes between crop farmers and herders as well as robberies and kidnapping by bandit gangs.
Loose lips | Hary Tanoesoedibjo, Indonesia's would-be Trump, is learning the hard way about the complications of doing business with the U.S. president. He's talked of running for president himself, all the while bragging about his access to Trump, with whom he's building luxury resorts in Bali and West Java. Then last year, Hary was engulfed by a series of scandals. Now he says his relationship with Trump is "too sensitive" to discuss.
Democrats hoping to make midterm gains with female candidates will be parsing the results of Georgia's gubernatorial primary after Stacey Abrams became the first black woman to win a major party nomination for governor of a U.S. state.
Look for Trump to sign the most sweeping overhaul of bank regulations since the 2010 Dodd-Frank Act after the U.S. House cleared the measure yesterday.
And finally... Cue the jokes about leaks, draining swamps and signs from God. A sinkhole has opened on the White House lawn, just outside the press briefing room. Journalists have been posting pictures of the hole, which groundskeepers have blocked off with police security tape and traffic cones. The pit was several feet across and a few deep yesterday, and it's getting bigger.