U.K.'s Javid Makes Peace With Police, Breaks With May's Approach
(Bloomberg) -- Sajid Javid will strike a conciliatory note with the nation's police in his first keynote speech as home secretary, a marked contrast to the combative approach of his predecessor, and now boss, Theresa May.
Javid, whose brother Bas is chief superintendent of West Midlands Police and one of the most senior Muslim police officers in Britain, will tell the annual Police Federation Conference in Birmingham on Wednesday: "I will be standing with you."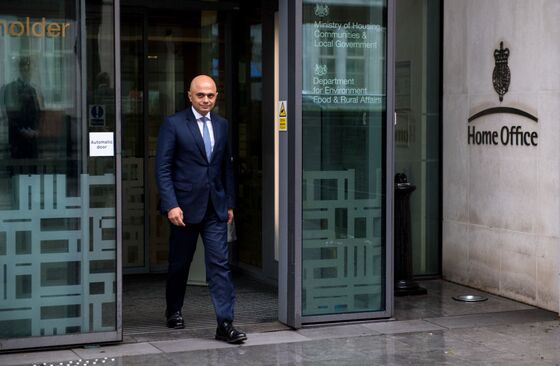 He could be facing a tough crowd. As home secretary, May waged an ongoing battle with the police, usually played out at the annual conference.
In 2011 she was heckled and jeered and accused of "kicking" police by cutting their pay and overhauling their working conditions. In 2012, she was forced to deliver her speech under a banner which had "criminal" written on it. Two years later, May accused the police of corruption and noted their "contempt" for the public. And in 2015, officers said her policy to cut down on so-called stop and search powers had led to an increase in knife crime.
Javid starts his job at a time when knife crime has hit a new high -- at least 37 people have been fatally stabbed in London since the start of 2018. Across the nation, knife crime rose 21 percent in the year to September 2017, according to the Office for National Statistics.
Describing being taken out on a ride-along in the back of his brother's police car in Bristol city center, Javid will recall his shock at hearing the abusive language he was subjected to first hand, according to extracts of his speech released by his office. He will say that as a result, he understands "how hard and horrible it can be being a police officer," and will tell officers he is "listening."
It's already the second time Javid has distanced himself from May. Though he campaigned for Remain in the 2016 Brexit referendum, he was never seen as very committed to that cause and has since come out as a firm Leaver. And at his first meeting of the Cabinet to discuss a clean break with the European Union's customs union just three days into the job, he told colleagues he was his own man and told May her preferred option was unworkable.
That's led to speculation he sees himself as a future leader of the Conservative Party.