U.K. Conservatives Split by Brexit Seek to Unite for Survival
(Bloomberg) -- Will Tanner is a former deputy policy chief to U.K. Prime Minister Theresa May. Yet the 29-year-old can't name a single university friend who votes for their Conservative Party.
Even though many of his friends precisely fit the profile of a traditional Tory voter -- aspirational, and conservative in their views -- a generation of younger Britons is turning its back on the party and toward Jeremy Corbyn's opposition Labour.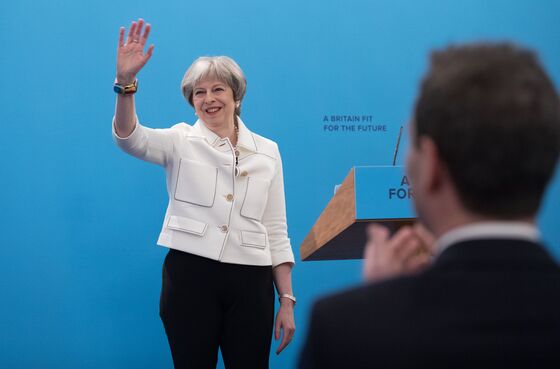 The Conservative Party's voter base is aging, still predominately white, and has become more divided than ever before over Brexit. It's a structural problem that needs to be fixed if the Tories have "any chance of survival," said Tanner.
With some Conservative lawmakers reportedly expecting another general election later this year as May tries to get her Brexit bill through Parliament, Tanner's timing couldn't be better to launch a think tank aiming to offer practical policy proposals for the Tories.
"Jeremy Corbyn has united the left and therefore that means the Conservative Party needs to do much more in the center ground," Tanner said in a telephone interview.
On Monday, leading Brexiteer Michael Gove will join Ruth Davidson, Scotland's Tory leader and a key "remainer," to attend the debut of the think tank, called Onward, which has a distinct echo of Emmanuel Macron's En Marche! party that galvanized French voters last year.
Onward promises "new ideas for a new generation," and in fact has warned that the Conservative Party will be "finished for at least a generation" if it can't broaden its appeal.
Gove has said the Tories need to shake off their association with Margaret Thatcher's reforms in the 1980s, which is toxic to many younger voters, and instead find new economic arguments that appeal to people under age 45.
Labour's John McDonnell, the Shadow Chancellor, on Sunday declared his ambition to overthrow capitalism, a system which, according to Gove, young people associate with making "the rich richer, and the poor poorer" and "is wired in the interests of crony capitalists, not the creative and the disruptive."
Gove himself has made inroads. As Environment Secretary he's promised to uphold the U.K.'s environmental standards after Brexit, and has launched sweeping reforms to reduce plastic waste being dumped into the world's oceans.
Rather than tackling Brexit head on, Onward will seek to deal with the root causes of discontent that so repelled voters in 2017, when May lost her parliamentary majority in one of the biggest political upsets in British history. It wants to help people get onto the housing ladder and boost technological disruption, while also helping workers hold into their jobs as automation threatens to replace them, Tanner said.
Anyone who thinks the launch of Onward is the start of a leadership bid by Gove and Davidson is mistaken, Tanner said. On the contrary, he said Onward's board consists of lawmakers who won their seats in the last three years, and its key purpose is to give them a platform.
"If I had a nickel for the number of people who have suggested the think tank was Michael's or Ruth's or Theresa's or George Osborne's idea," Tanner said, referring to the former Tory MP and Chancellor who's now editor of the London Evening Standard. "I worked for Theresa May for four years, so I'm certainly not trying to find people to replace her."
If Onward's modernization ambitions sound familiar, it's because they are. May's predecessor, David Cameron, had a similar program to detoxify the Tory brand that helped get the party into power in 2010 for the first time in 13 years. Any remnant of that was lost, arguably, when the country voted to leave the EU in 2016.
"Modernization is an ongoing process," Tanner said. "We constantly need to be making sure the party is relevant to the debate at the time."