Spanish Firebrand's House With Pool Casts Doubt on Judgment
(Bloomberg) -- Spanish left-wing firebrand Pablo Iglesias has bought a home in the country. With a swimming pool. And a guest house.
"We understand that many Spanish families, even with two salaries, can't afford a mortgage like this," Iglesias, the leader of the anti-austerity Podemos party, said in a statement on Facebook with his partner Irene Montero. "And that's why we think it's so important to defend dignified salaries for everyone."
The charges of hypocrisy for spending a reported 615,000 euros ($725,000) on a property have come thick and fast -- after all, Iglesias attacked former Economy Minister Luis de Guindos for buying a 600,000-euro apartment back in 2012. And commentators are now also starting to question the couple's financial acumen.
Iglesias and Montero, also a parliamentary deputy for Podemos, said they took out a 30-year, 540,000-euro mortgage for the property in the town of Galapagar outside Madrid. Borrowing about 90 percent of the home's value and possibly burning savings is putting the family at risk of over-extending themselves with interest rates poised to rise, property website Idealista said in a report.
"With the public data we have, it looks like the couple has taken on more risks than are advisable," said Juan Villen, head of mortgage services at Idealista, which is known for its research. "Theirs is not a good example of getting into debt in this way, especially at a time when we're asking for prudence from the financial industry to avoid the excesses of the past."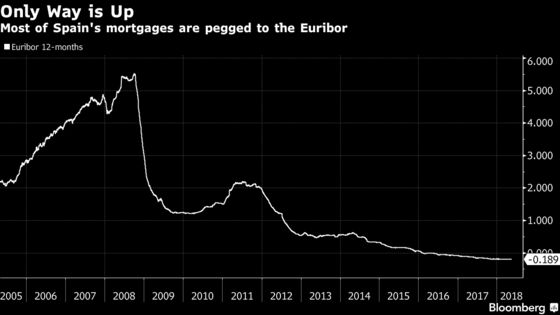 The Podemos power couple, who are expecting twins, didn't respond to a request for comment made through the party's press office.
Headlines in Spain have been mainly focused on whether the purchase is inconsistent with Iglesias's previous comments condemning the wealthy.
When de Guindos, now the vice-president-in-waiting of the European Central Bank, bought an apartment in the wealthy La Moreleja neighborhood of northern Madrid, Iglesias attacked him on Twitter saying: "Would you hand the economic policy of the country to someone who spends 600,000 euros on a luxury apartment?"
Party members will vote from tomorrow on whether Iglesias should retain the leadership in the wake of the house-buying scandal. He has vowed to resign if he loses the vote.
"There's nothing wrong with someone who's left-wing buying a house," said Antonio Barroso, a political-risk analyst at advisory firm Teneo Intelligence in London. "What could be damaging is the lack of consistency with his previous comments."
Podemos and Iglesias, 39, erupted onto Spain's political scene following widespread street protests as unemployment surged to as high as 27 percent in 2013. An opinion poll published by El Pais on May 13 showed the party and its allies in second place with support of 19.8 percent.
According to Idealista, the Spanish colonial-style house is a three-bedroomed property measuring 268 square meters (2,885 square feet) on a plot of almost 10 times that size.
Idealista said the couple's mortgage looks like a floating-rate deal where repayments would climb if, as seems likely, the Euribor benchmark rises from a near record low. Spanish Economy Minister Roman Escolano said only this month he'd taken out a fixed-rate mortgage to avoid nasty surprises as rates go up.
"This is more a matter of image and lack of coherence than anything else," David Monserrat, a 36-year-old Podemos voter, said in an interview. "At the end of the day, it's up to each of us to decide what we want to do with our money."