NJ Transit's Rush on Safety Work May Worsen Hellish Commute
(Bloomberg) -- New Jersey Transit commuters who thought they'd escaped another summer of canceled trains may have celebrated prematurely. Soul-sucking misery could be around the bend.
The nation's second-biggest commuter-rail operator is canceling trains for 2,000 riders as it struggles to outfit locomotives with automatic braking systems ordered by Congress. With just 13 percent of hardware installed, among the slowest progress by U.S. passenger railroads, NJ Transit won't rule out more service cuts as federal officials press the agency to speed up the job.
The Dec. 31 deadline, extended once already, is adding unprecedented stress to an aged fleet that's been blamed for delays and overcrowding. NJ Transit trains are breaking down at their highest rate in at least five years, agency data show. Eight years of budget starvation by former Governor Chris Christie has left NJ Transit cannibalizing rail yards for replacement door latches and toilet fixtures.
"We had poor management that dug such a big hole," said Assemblyman John McKeon, a West Orange Democrat who has sponsored legislation to enhance state oversight of NJ Transit's finances and operations. "It's going to get worse before it gets better."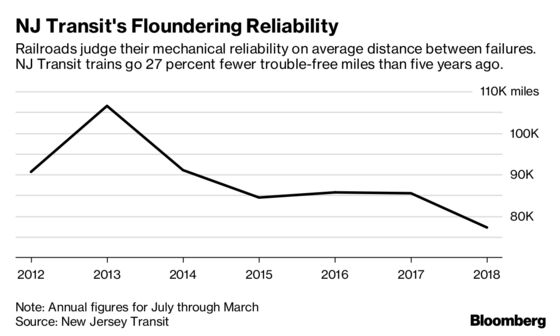 Governor Phil Murphy, a Democrat who replaced Christie in January, has backed off his Republican predecessor's promise to meet the deadline. Kevin Corbett, NJ Transit's executive director, said in April that he may seek another extension. Still, the agency must show significant progress in order to win Federal Railroad Administration approval for a push-back to 2020.
A year ago, 25 percent of NJ Transit service was disrupted for eight weeks of maintenance at New York Pennsylvania Station that Governor Andrew Cuomo had said would cause a "summer of hell." The horror was thwarted, though, as commuters worked from home or used extra ferries, buses and subway trains.
NJ Transit will start the safety work after riders on some trains serving New York juggled their schedules for five months while Amtrak oversaw improvements at Penn Station, leading to cancellations and diversions. That project is scheduled to wrap up Memorial Day weekend.
Nationally, no railroad task has more urgency than the emergency system known as positive train control, a constant on the National Transportation Safety Board's annual top 10 priorities list. Though Congress passed the law in 2008 and mandated its installation for passenger and freight railroads by December 2015, the deadline was extended by three years after operators said the project was technologically complex.
Positive train control could have prevented fatal Amtrak wrecks in South Carolina in February, Washington state in December and Philadelphia in 2016, according to the safety board. It also could have slowed a Metro-North train whose engineer was dozing as the speeding train jumped the tracks in 2013 in the Bronx, killing four people and injuring at least 61.
None of 26 commuter railroads have their entire systems in place, though 10 have installed all hardware needed for implementation. Just six are less than halfway there, including NJ Transit, according to FRA data as of March 31.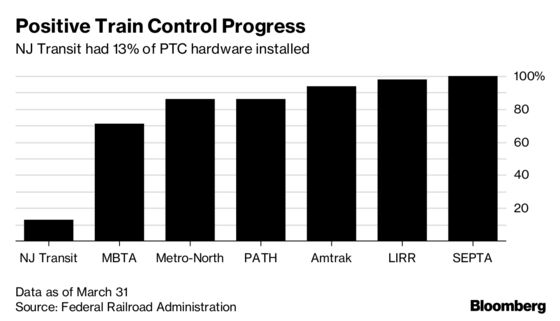 On May 15, the administration dangled $250 million in grants to help the railroads accelerate work.
"These funds are part of the department's ongoing efforts to strengthen our country's rail safety by helping railroads to more rapidly deploy positive train control systems," Transportation Secretary Elaine Chao said in a statement.
In an April 24 letter to Corbett, FRA Administrator Ronald Batory noted that NJ Transit still hadn't completed "an initial phase." For an extension, Batory wrote, NJ Transit must tackle computer programs, radio spectrum, staff training and live tests.
Under Christie, even as NJ Transit publicly touted its progress, the project's second-in-command quietly was telling regulators otherwise, according to emails obtained by Bloomberg News using public-records laws.
"NJT is still not taking this as seriously as it should," Paul Stangas, the agency's senior director of positive train control, wrote in an April 2017 email exchange with FRA authorities. "I am not nearly so optimistic, and biting my tongue has become an essential skill."
This month, NJ Transit said it would have to adjust weekday rail schedules beginning June 4 to allow for hardware installation. It's scratching 14 routes, leaving riders to squeeze aboard earlier or later trains, some that already are often jammed with standees.
As many as 60 locomotives -- including models that seat 100 passengers -- will be pulled from service at one time, according to spokeswoman Nancy Snyder. In all, 400 pieces of equipment will be retrofitted and returned to service on a rotating basis.
The railroad "took a strategic approach in identifying trains with historically lower ridership," Snyder said in an email.
"Customers are paramount and NJ Transit is continually exploring and pursuing efforts to minimize customer impact as this important safety project progresses," she said. "We will add cars to train sets where we can and make structural changes to the schedule to provide more capacity for customers while reducing the times between scheduled rail service before and after the impacted train."
When asked whether riders can expect additional service changes, Snyder said "not at this time."
Murphy, who has called the once-heralded NJ Transit "a national disgrace," included a third more agency funding in his $37.4 billion state budget for the year that starts on July 1.
An agency audit and hiring effort are under way, and the railroad has deployed 40 sidelined train cars -- half acquired from Maryland mass transit -- to ease crowding. Though 17 Bombardier Transit Corp. locomotives are on order, they won't be delivered until late 2019; a bid for 113 multilevel passenger coaches won't go out for several months.
"This is not a quick turnaround project," Murphy said at a February news conference at the Trenton train station. "New Jersey Transit's woes stem from years of internal management issues and years of state neglect."