In Italy, a Novice Premier May Face Rival Puppet-Masters
(Bloomberg) -- The way things are shaping up in Italy, the next prime minister will have to manage two heavyweight ministers with no power base of his own. And it'll be his first proper job in politics.
Five Star leader Luigi Di Maio said Monday he's proposed Giuseppe Conte, a 53-year-old law professor from Florence University to lead a coalition government after a deal with his partner Matteo Salvini of the anti-immigrant League. If he eventually gets the job, Conte is going to face constant pressure from the two populists who drew up his policy program.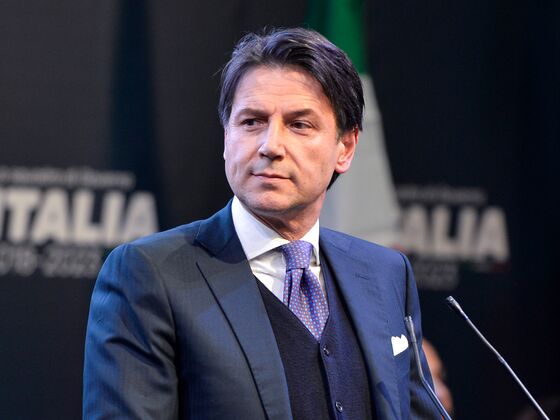 President Sergio Mattarella will be taking his time as he considers whether to formalize his nomination for premier, amid concern about the new prime minister's lack of political experience and his ability to contain those personal and political rivalries.
Mattarella, who met both Di Maio and Salvini Monday, may pick a premier-designate on Wednesday or Thursday, newspaper Corriere della Sera reported. The head of state expressed his worries to both leaders about state finances and Italians' savings, according to a senior state official who declined to be named because the talks are private.
As the official put it: if Conte is at a summit with Germany's Angela Merkel and Emmanuel Macron of France, he can't call Salvini and Di Maio for approval every time he needs to take a position.
A dapper figure who wears three-piece suits, with a handkerchief folded in his breast-pocket, Conte is likely to have both 31-year-old Di Maio and Salvini, 45 around the cabinet table. Di Maio is tipped as a possible minister of labor and economic development, while Salvini could be interior minister.
"This is uncharted territory," said Roberto D'Alimonte, a political science professor at Rome's Luiss University. "Will Conte be just an executor, implementing a program decided by others? Or will he be a mediator between Five Star and the League, between the two parties and their European partners?"
If nominated, Conte could face a confidence vote early next week and his first major international commitment would likely be next month's summit of Group of Seven nations in Canada.
While Five Star and the League are both populists, they have contrasting priorities. Five Star's electoral stronghold is in the poorer south of Italy and its signature policy would see the state paying out at least 17 billion euros ($20 billion) for a "citizen's income."
The League has a more right-wing constituency concentrated in the industrial north. During the election campaign it labeled Five Star's plans as state hand-outs that would discourage people from working. Many Five Star backers see the League's flat tax measure as favoring the rich.
While Salvini didn't identify the candidate he'd proposed when he spoke to reporters after his meeting with Mattarella, a party official said that he'd also put forward Conte. Conte has sought guarantees for his autonomy at the head of a populist government, newspaper Corriere said on Monday.
The man who they've chosen as a mediator has a reputation for speaking frankly.
"I've never voted for you," he told Di Maio in their first phone conversation in 2013, when the Five Star leader was recruiting him for an agency that handles legal cases involving state officials.
"Professor, that's not important, what matters is that we want an independent figure," Di Maio replied, as Conte recalled in a Rome speech in February.
Born in a hilltop village of less than 500 people in the southern Apulia region, Conte has a law degree from Rome's La Sapienza University and has studied at various other institutions, including a three-month stay at Yale University, and summer research at the Sorbonne University in Paris, according to his curriculum vitae on the website of the lower house. He is both a professor and a practicing lawyer, focused on civil and business cases.
At Florence University, a fellow-academic who asked not to be named said Conte is a good listener, who played a key role in finding common ground to resolve law faculty tussles over courses and staffing, often lightening the atmosphere with ironic humor.
Asked during a talk-show on La7 television in February whether he was politically on the right or the left, Conte replied: "My heart traditionally beats on the left."
Apart from his academic and legal career, Conte serves as the deputy-head of the administrative law agency that Di Maio persuaded him to join. He's also been on the board of the Italian Space Agency, and was part of the watchdog committee for Rome's 2020 Olympics bid which was killed off by then-premier Mario Monti because of cost worries.
His name cropped up in Five Star circles again before the election when Di Maio picked him as a potential minister. Conte said at the time he wanted "to make public administration more efficient, and simplify its relations with citizens."
In his next job, it may be relations between his ministers that demands most attention.