Erdogan Imperils Turkey Rating as Bonds Sink Below Senegal's
(Bloomberg) -- Turkey is paying more than Senegal on its debt, even though it has a higher credit rating and its economy is 60 times bigger. Why? Analysts say it's Erdoganomics.
A selloff in Turkish bonds accelerated after President Recep Tayyip Erdogan faulted high interest rates for stubborn inflation in an interview with Bloomberg last week. He also said he would seek a bigger say in monetary-policy decisions after a June 24 election.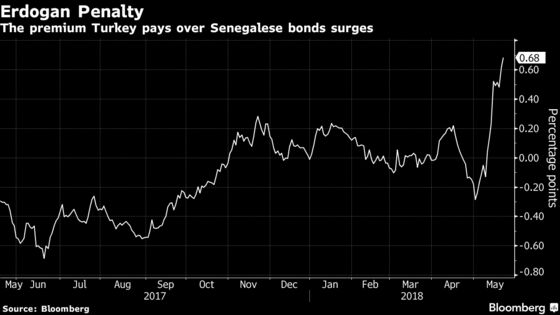 "The president's remarks on the central bank were the final nail in the coffin" said Okan Akin, a credit analyst at AllianceBernstein in London. "The market is pricing Turkey as a single-B credit. Turkish bonds have been trading two notches below the country's rating for some time anyway, but the country's assets have negatively decoupled from other emerging markets in the last couple of weeks."
The yield on Turkey's February 2034 bonds rose on Tuesday to 68 basis points above Senegal's dollar bonds with similar maturity. Turkey is rated BB+, the highest non-investment ranking at Fitch. S&P Global Ratings and Moody's Investors Service grade the country one level above Senegal.
Local-currency bonds show a similar picture as the central bank struggles to contain a double-digit inflation rate. Ten-year lira bonds offer higher yields than the bonds of Nigeria, Pakistan and Lebanon after sliding the most this year among 27 developing nations tracked by Bloomberg.
"Turkey has become the center of a storm right now," said Tatha Ghose, an economist at Commerzbank AG in London. "It is all about central-bank independence and what Erdogan said in London. At this time, Turkish assets are not valued on fundamentals really."
While Erdogan's unorthodox views on monetary policy have been known for some time, his interview with Bloomberg was still a jolt.
"In the past, Erdogan's remarks were viewed as public lobbying and the decision on interest rates is ultimately up to the central bank," said Richard Segal, a senior analyst at Manulife Asset Management Ltd. in London. "But now if he does not like the level of interest rates, he might tell them what to do and it might encourage the central-bank governor or the monetary policy committee to resign."
By sending the bonds lower than those of Senegal, investors are signaling they see a downgrade in the cards.
"The policy framework and the economic priorities post elections will be an important input to future decisions regarding the direction of Turkey's rating," Yves Lemay, managing director for sovereign risk at Moody's, said in an interview in London. Moody's rates Turkey two levels below investment ranking.
Fitch Ratings said on Tuesday that eroding the central bank's independence would put further pressure on Turkey's credit profile. The cost of insuring the nation's sovereign debt against default rose to the highest since January 2017.