Brexit Bulletin: A Boost From Boris
(Bloomberg) -- Today in Brexit: Foreign Secretary Boris Johnson tells Brexit hardliners to give the prime minister "time and space," just as she's pushed the Cabinet into a major compromise and negotiations head for another crunch point.
Boris Johnson has told his fellow Brexit supporters to trust Theresa May, a win for the embattled prime minister just days after she got ministers to agree to a controversial compromise that she hopes will help unlock negotiations.
May probably needs Johnson's backing to convince Brexit voters that she's delivering the divorce they were promised. Last week ministers agreed to a plan that could keep Britain tied to European Union rules for years after the split – a risky move for May, whose leadership is vulnerable to challenges by hardline Brexit lawmakers. The proposal, first reported by Bloomberg, is meant to be a last-resort option that would ease talks over the thorny issue of the Irish border.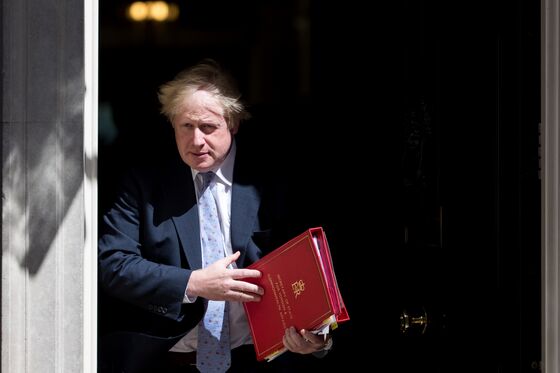 Johnson said May would be "true to her promises," which include taking back control of the border, national finances and laws, and being able to strike free trade deals around the world. 
"We must now give the prime minister time and space to negotiate this Brexit vision," he said during a trip to Latin America.
The customs plan, which emerged last week, was met by a fairly contained response from Brexit purists, led by Jacob Rees-Mogg. They have the numbers to trigger a leadership challenge, if not to win one, but are lying low, at least for now. 
And in another sign that the U.K. side might be headed toward more compromise, an ally of another key Brexit supporter, Michael Gove, is calling for the U.K. to remain in the customs union until 2022. Nick Boles, a former minister, told the Observer he could propose an amendment that would extend membership to give the government time to work out a viable long-term plan. There's a growing sense that whatever customs setup is chosen for after Brexit, it might not be ready in time for the end of transition period in December 2020. 
Talks resume in Brussels this week, and negotiators have something new to bring to the table on the question of the Irish border. May prepared the ground last week as she met leaders on the sidelines of a summit in Sofia. One of the concerns she heard, from European Council President Donald Tusk, was that London was sending "disorientating" messages. Johnson's comments might just help. Then again, as some are reading his message as a warning to May not to sell out, maybe not.
Michael Gove and Scottish Conservative Party leader Ruth Davidson launch Onward, a think tank aimed at attracting more voters from the center. The name has echoes of French President Emmanuel Macron's En Marche! party and its mission is to unite and modernize the party, Jessica Shankleman writes.
A group of pro-EU former ministers including Amber Rudd is planning to speak out to show May that she has enough support in Parliament to face down Brexit hardliners, the BBC reports.
Not Another One | Conservative lawmakers are preparing for another general election later this year amid concerns May's Brexit pledges are undeliverable, the Times reports. Meanwhile a poll for the Observer showed the Tories had a four-point lead over Labour, the biggest since the general election of 2017.
Japan's Demands | Japan wants a better deal in any future trade negotiation with the U.K. than it got from the EU, the FT reports. Companies are pressing for an exemption from visa quotas as it's becoming increasingly difficult to get Japanese staff into the U.K., the paper says. Britain's plan for Brexit is to strike trade deals around the world, while taking back control of immigration.
Beating Galileo | The U.K. is trying to show the EU it's serious about launching a rival satellite navigation system if it's shut out of Galileo after Brexit. The FT reports it is aiming to put out the first tenders for the rival project by the end of the year and is hoping to collaborate with Australia, a member of the "Five Eyes" intelligence alliance.
London Falling | London home prices remain a weak spot in the slowing U.K. housing market as Brexit clouds the outlook, according to data released on Monday. The capital had an annual price decline of 0.2 percent in May, property website Rightmove said. Separately, Acadata reported that in April London was the only region showing an annual fall, clocking in a 2.5 percent drop. 
Coming Up | Gove, Davidson and DUP leader Arlene Foster are among speakers at a conference in London on Monday on the state of the union. Negotiations resume in Brussels on Tuesday.