Abe Rival Faults Plan to Fast-Track Japan Constitution Changes
(Bloomberg) -- A potential rival to Prime Minister Shinzo Abe criticized plans to tweak the anti-war provision of Japan's constitution, urging a more sustained campaign to win public support for fundamental change.
Former Defense Minister Shigeru Ishiba, 61, told Bloomberg News that introducing a "vague" proposal just to win the necessary two-thirds majority in both houses of parliament was the wrong approach for such an important decision. Abe has proposed clarifying the legal status of Japan's Self-Defense Forces, without revising the rest of the constitution's Article 9, which renounces the right to wage war.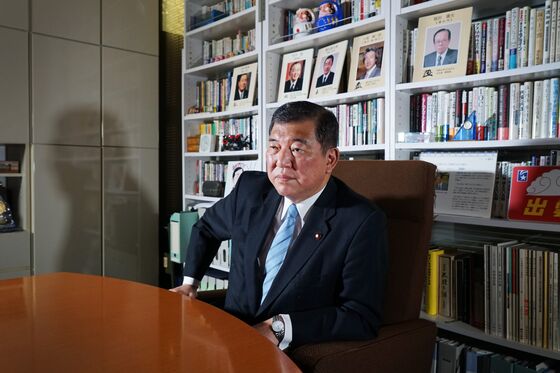 "Even if it takes 10 or 15 years, we should show the public constitutional change the way it should be, and build up support for it gradually," Ishiba said Monday in an interview at his Tokyo office. "Skipping that process and thinking about how to get two-thirds' support -- I for one don't think that's the right way of going about it."
The former defense minister leveled his criticism with some public opinion surveys showing voters prefer him as prime minister as Abe copes with a serious of political scandals. While Ishiba hasn't declared whether he'll run in September's election for the leadership of the Liberal Democratic Party, he said an uncontested election would be bad for the ruling party and pledged to make decision next month.
Revising Japan's post-World War Two constitution has been one of Abe's central policy goals, as China and North Korea build their military reach and capabilities. He seeking to formally amend the document after reinterpreting provisions in 2015 to allow Japan to again send troops to fight in overseas conflicts.
Abe's ruling coalition holds the two-thirds majority needed in both houses to approve national referendum on the constitutional change. Still, limiting the scope of the amendment, which hasn't yet been finalized, might help secure the support of a junior coalition partner skeptical of the plan.
The pacifist Article 9 of Japan's constitution  

1) "Aspiring sincerely to an international peace based on justice and order, the Japanese people forever renounce war as a sovereign right of the nation and the threat or use of force as means of settling international disputes.

2) In order to accomplish the aim of the preceding paragraph, land, sea, and air forces, as well as other war potential, will never be maintained. The right of belligerency of the state will not be recognized."
On Monday, Ishiba also questioned the sustainability of the Bank of Japan's unprecedented monetary-easing program under Abe, which has weakened the yen, helped exporters and lifted stock prices. He said the easy-money policy couldn't be continued indefinitely.
Ishiba also didn't commit to following through on a plan to increase the national sales tax next year to 10 percent from 8 percent, saying "it's important to see whether the economic conditions have been created."
Support for Abe's cabinet appeared to be recovering in four opinion polls published Monday. The Asahi, Yomiuri and Sankei newspapers and NNN TV news network all found support up slightly on the previous month. Nevertheless, Ishiba was the most popular choice to win the LDP election in two of the surveys.
An Asahi poll earlier this month showed 30 percent of respondents approve of the constitution being changed by Abe's administration, with 58 percent disapproving.