A Turning Point in Trump's Mueller Stance
Donald Trump has long painted Special Counsel Robert Mueller's investigation as a "witch hunt," and now he may use the federal government to try to prove it.
The U.S. president said on Twitter that he will formally order the Justice Department today to investigate whether it or the FBI tried to infiltrate his campaign in 2016 under possible orders of Obama administration officials.
It marks the first time Trump has taken official action to use the authority of his office to counter the probe into whether Russia meddled in the election since he fired FBI Director James Comey last year.
Trump last week asserted that "there was indeed at least one FBI representative implanted, for political purposes," in his campaign. There's no evidence of that. The FBI did rely on an informant who was in contact with Trump associates, Joshua Gallu and Billy House report.
The shift from tweets to action prompted fresh warnings from Democrats, who have long suggested that Trump was looking for grounds to fire Mueller or Deputy Attorney General Rod Rosenstein – the person overseeing the Russia probe.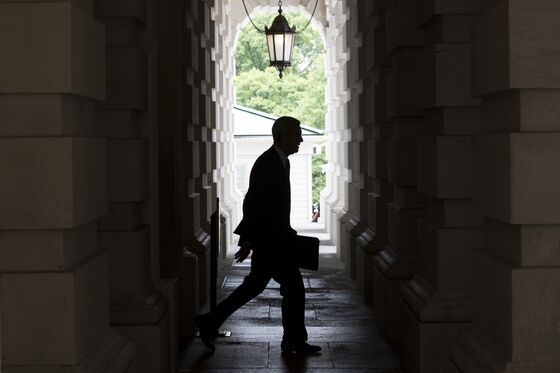 Finding a premier | Italy's populist leaders meet the head of state today to discuss their plans to form the next government. President Sergio Mattarella is likely to grill them on their spending plans and warn them of Italy's international commitments under EU treaties. Most of all, he'll want to know who they want to make prime minister – the leading candidate is Giuseppe Conte, a 53-year old law professor with no political experience.
Fleeting trade truce? | The Trump administration's commitment to the cease-fire in its trade dispute with China may prove temporary if the world's two largest economies fail to deliver on vague commitments to re-balance their relationship. While the news calmed Asian investors earlier, Eswar Prasad, a former head of the IMF's China unit, said it could end up as "little more than a brief de-escalation of tensions."
Power extension | Nicolas Maduro was re-elected president of Venezuela in a contested vote, and may now rule the country at least until 2025. The ballot took place in the face of strong opposition at home and abroad, and turnout was so low the government kept polls open for more than three hours past their expected closing time. In his victory speech, Maduro said the vote was "historic" and he can "stabilize" the economy. 
Women's rights setback | Saudi authorities detained several prominent women's rights advocates in what one international human rights group said was a "chilling development" for critics who may want to question the government's agenda. Officials accused the activists of having "suspicious communication with foreign agencies," a vague allegation used to clamp down on dissent. Some of those taken into custody have pushed for years for women to be allowed to drive, and will most likely be behind bars when they get that right next month.
Racial divide | Speaking in an interview, Malaysian political leader Anwar Ibrahim has a simple message for ethnic Malays who fear losing benefits they enjoyed under the previous government's six-decade rule: Don't worry, which reverses his earlier call for affirmative action rules to be repealed. To promote unity, Anwar, who's expected to replace Prime Minister Mahathir Mohamad in a year or two, has instead turned to the one cause that spans party and racial lines: rooting out corruption. 
Secretary of State Mike Pompeo is to give a speech outlining the new U.S. approach to Iran.
And finally… Roman Abramovich, the Russian billionaire who owns London's Chelsea Football Club, couldn't attend his team's victory in the FA Cup at Wembley Stadium on Saturday. The reason? His visa renewal is taking longer than usual. The tycoon's trouble comes at a time of tense relations between the U.K. and Moscow and a review of investor visas of 700 wealthy Russians. Parliament's Foreign Affairs Committee Chairman, Tom Tugendhat, said London must take the threat of Russian corruption more seriously, because it's "no longer just a financial crime, but is a national security issue.''