Talk to Taliban or Face Endless Conflict, Russia Tells U.S.
(Bloomberg) -- Russia said the U.S. will have to drop its opposition to negotiating directly with the Taliban on the eventual pullout of American troops from Afghanistan or face a grinding and bloody war for years to come.
The U.S. refusal to talk with the hard-line Islamist movement that controls 40 percent of Afghan territory is "why we are at a dead-end," President Vladimir Putin's special envoy for Afghanistan, Zamir Kabulov, said in an interview in Moscow on Friday. Without such contacts, "the war and bloodshed will drag on for years," he added.
U.S.-backed President Ashraf Ghani in February offered the Taliban unconditional talks but the insurgent group has responded by stepping up attacks. The Taliban on Friday offered members of the Afghan military and security forces an amnesty if they quit "enemy ranks."
U.S. President Donald Trump's administration, which has accused Russia of arming the Taliban, has poured more troops into Afghanistan and waged a series of air strikes as it seeks to regain the military edge. Russia denies the allegations though it says it's in dialogue with the movement that ruled the country from 1996 to 2001, when it was overthrown in a U.S.-led invasion to destroy terrorist training camps run by Osama Bin Laden.
The tensions over Afghanistan come as Russia's ties with Trump's administration steadily worsen with the ratcheting up of American sanctions over alleged Kremlin interference in the 2016 presidential elections. The two powers are also increasingly at odds in Syria as Russia seeks to restore its influence in the Middle East.
Taliban representatives told Kabulov they won't meet with what they consider a "puppet" administration without first holding negotiations with the Americans, whom they consider as "occupiers," he said.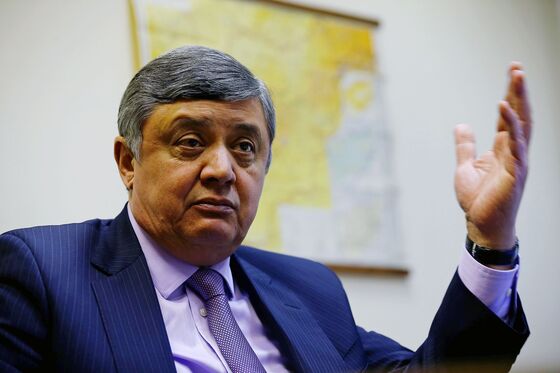 A top State Department official in March said talks with the Taliban should not include the U.S. "We certainly cannot substitute for the Afghan government and the Afghan people," said Alice Wells, the principal deputy assistant secretary for South and Central Asian affairs.
General John Nicholson, who commands 14,000 U.S. troops and 6,500 North Atlantic Treaty Organization forces in Afghanistan, the same month urged the Taliban to take up President Ghani's offer or face an escalating military campaign.
"You're seeing a real growing capability. So in the Taliban's mind, they see what's coming," Nicholson said. "And these capabilities are only going to get greater. And so this really is probably their best time to attempt a negotiation because it's only going to get worse for them."
The situation on the ground is heading in the opposite direction, according to Russia, where memories remain fresh of the Soviet Union's Afghanistan experience almost three decades after the Red Army's humiliating withdrawal in 1989.
"We went through this when Soviet troops were there, it was a very similar picture," said Kabulov, who forecasts increasing Taliban control of the war-torn country. "Another 5,000 or even 50,000 troops won't help. It's not going to get any better."
The Soviet Union lost 15,000 soldiers during a disastrous 10-year occupation of Afghanistan.
The foreign forces are in Afghanistan as part of security accords signed under Ghani after he took office in 2014. They allow for U.S. and NATO troops to stay through the end of 2024 and beyond.
Russia says the Islamic State represents a growing threat in Afghanistan and while some Taliban elements are in a tactical alliance with the jihadists, the bulk of the movement and its leadership is determined to fight the terrorist group. This means the Taliban has common interests with Russia, it says.
The U.S. charges that Russia is exaggerating the strength of Islamic State in Afghanistan to legitimize the actions of the Taliban and counter the American influence there.
Russia rejected a Taliban request to provide it with money to buy weapons, said Kabulov, adding that the only Russian goal in Afghanistan is to "promote a peace settlement" and stop Islamic State from setting up a Caliphate.