Rajoy's Catalan Challenge Returns With Threat to Spanish Budget
(Bloomberg) -- Spanish Prime Minister Mariano Rajoy faces a resurgent confrontation with Catalonia over the regional government's choice of leaders, threatening passage of his 2018 budget.
Rajoy's government left open the option of vetoing a slate of senior officials proposed by regional chief Joaquim Torra on Saturday, saying it's a provocation that he nominated people who are in prison or wanted by Spain after Catalonia's failed independence bid in 2017. A veto would extend the Spanish government's direct rule of Catalonia.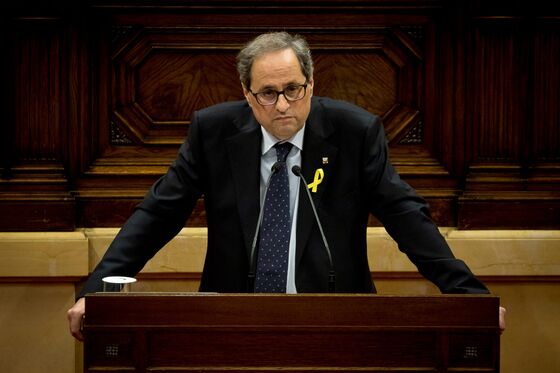 The standoff plays into Rajoy's plan to salvage the country's budget in a parliamentary vote this week. Lacking a majority of seats, Rajoy needs backing from the regional Basque party, or PNV, for passage. The party has said it will only back the budget if Rajoy lifts Article 155 of the constitution suspending Catalan self-rule before the vote set for May 24.
Rajoy is leaning toward extending the suspension and blocking the regional cabinet from taking office, El Pais reported Sunday. The premier is counting on backing by the Socialists and the liberal Ciudadanos party, the newspaper said, citing people it didn't identify.
Both parties have criticized Torra's road map and his ties with ousted leader Carles Puigdemont. Torra took office as Catalan president on May 14.
Ciudadanos head Albert Rivera said on Saturday that Torra plans to lead a "rebel administration." Socialist chief Pedro Sanchez said his party supports the central government's pledge to block the nomination of imprisoned officials.