May Won't Betray Brexit Backers on Customs Plan, Johnson Says
(Bloomberg) -- Brexit supporters "fearing betrayal" over a new customs plan should trust Prime Minister Theresa May to deliver on her promises as the U.K. prepares to leave the European Union, Foreign Secretary Boris Johnson said.
Johnson reminded his fellow euroskeptics that the premier has vowed to secure a Brexit deal that takes Britain out of the EU's single market and customs union while allowing the country to control immigration and strike "unhindered free trade deals across the world."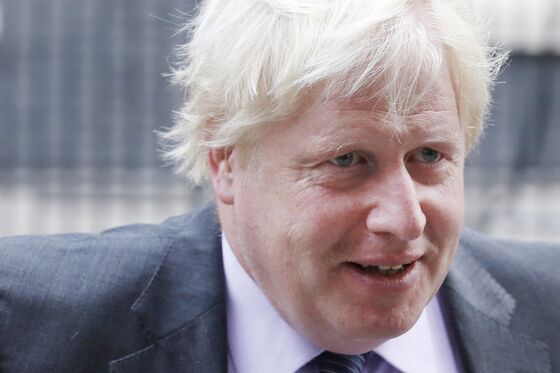 "We must now give the prime minister time and space to negotiate this Brexit vision," Johnson told reporters Sunday in Buenos Aires, during a five-day trip to Latin America. "I'm convinced that the prime minister will be true to her promises."
Johnson's message is double-edged. He's urging May's critics to give her a chance to deliver the kind of Brexit they want. At the same time, he's underlining the concern that euroskeptics have about her direction, and signaling that she'll be held accountable if she backtracks.
The Brexit process is at a crunch point, with talks stalled in Brussels over the thorny question of the Irish border, and the U.K. government divided about what kind of long-term customs agreement it wants with the EU.
Johnson is the leading voice in May's cabinet campaign for a quick, clean break from the bloc. Doing so would allow the U.K. to strike free trade deals and set its own tariff rates with other countries.
Last week, however, Johnson and other senior ministers agreed to a contentious compromise plan that will potentially keep the U.K. in the EU's tariff regime for years. The aim is to avoid the need for checks on goods crossing the border between Ireland and Northern Ireland, a sight that would revive memories of the decades-long conflict on the island and could potentially destabilize the peace settlement there.
Some in May's Conservative Party regard the new "backstop" plan for the Irish border as a major mistake. They fear the plan will make it harder for the U.K. to negotiate trade deals with other countries when there's no difference in tariff rates compared with the EU.
May says she hopes there won't be any need for a reserve arrangement because she wants a sweeping new free trade deal between the U.K. and the EU to deliver friction-free trade at the border.
The EU has proposed its own backstop idea -- keeping Northern Ireland inside the bloc's customs territory -- but May has rejected it.
"Brexiteers fearing betrayal over the customs backstop must understand" that May is "very clear" she doesn't want any backstop to be necessary, Johnson said.
"We want a deal with the EU, and she will deliver it," he said.