Why Trump and Kim Picked Singapore for Their Summit: QuickTake
(Bloomberg) -- The U.S. and North Korea picked Singapore as the venue for a historic summit between Donald Trump and Kim Jong Un, scheduled for June 12. The move is a diplomatic coup for the city-state, which lies almost 5,000 kilometers (3,000 miles) south of the North Korean capital, Pyongyang.
1. What made Singapore an attractive choice?
It offers excellent security -- a high priority for a U.S. president -- and has a track record of putting together top-level international gatherings at short notice. Singapore has both a North Korean embassy and security ties with the U.S. Trump ruled out his earlier suggestion for the meeting, Panmunjom, which is on the North Korea-South Korea border.
2. What other meetings has Singapore hosted?
Chinese President Xi Jinping chose the Southeast Asian nation for his historic meeting with then Taiwan President Ma Ying-jeou in November 2015. That meeting -- the first between the leaders of the governments in Beijing and Taipei since the civil war ended seven decades earlier -- was arranged under a shroud of secrecy, something Singapore has shown itself adept at handling.
3. What venue would Kim and Trump use?
It's too early to say, but Xi and Ma met at the Shangri-La Hotel, which is located in a leafy Singapore suburb. The hotel has plenty of experience putting on high-security events: Every year it hosts global defense chiefs for the Shangri-La Dialogue, the region's most important security forum.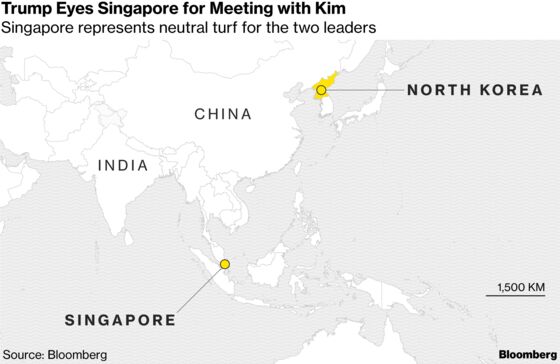 4. Do diplomatic ties count?
Probably. Washington has a strong, long-standing relationship with Singapore. The U.S. Navy stations some of its combat ships at the Changi naval base, and other ships and aircraft regularly visit. Singapore is one of about four dozen countries in the world where North Korea has an embassy.
5. Does Singapore's location play any part in the decision?
Possibly. Some security analysts had been concerned North Korea may not have a plane capable of flying to a distant location. But Kim took a plane to visit Dalian in China this week, so perhaps he can get to Singapore.