'We Can't Be Beaten,' Says Leader of Rebel Ethiopian Region
The president of Ethiopia's dissident Tigray region vowed his forces will overcome an incursion by the federal army as he accused neighboring Eritrea of joining the conflict.
Government troops have conducted daily air raids on Tigray since they began attacking the region Nov. 4, the region's President, Debretsion Gebremichael, said in a phone interview Thursday. Eritrean forces used heavy artillery on the town of Himora, one of the main flash points for the conflict in western Tigray, he said.
Despite the onslaught, "we are still holding," Debretsion said. "These people cannot defeat us. We cannot be beaten."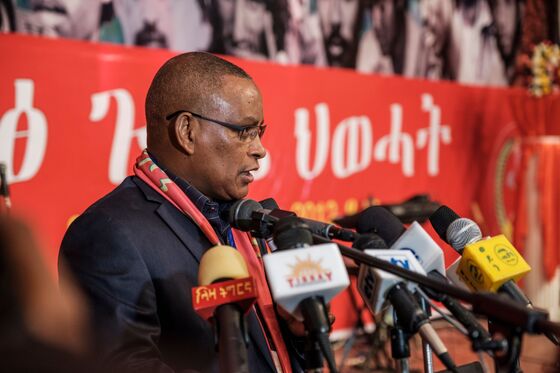 The eight days of fighting in Tigray have left at least 550 people dead and hundreds more injured, and forced thousands to flee to neighboring Sudan. Prime Minister Abiy Ahmed ordered the army to attack in retaliation for a raid on a base in Tigray that he blamed on that region's ruling party -- a claim it denies.
The conflict has raised international concerns of a full-blown civil war, at a time when the government is struggling to end ethnic violence that's shaken one of the world's fastest-growing economies. It may also delay plans to open up the economy to foreign investors that were expected to lure tens of billions of dollars in inflows.
Investors are spooked. The country's $1 billion of Eurobonds maturing in 2024 have declined 4% this month. A gauge tracking developing-nation dollar-denominated debt rose 2% in the month through Tuesday.
"Ethiopia's internal conflict in the Tigray region risks unraveling years of
economic and social progress, at a time when weak revenues and elevated
external vulnerability as a result of the global coronavirus crisis is already
pressuring creditworthiness," Moody's Investors Service sovereign analyst Kevin Dalrymple said in an emailed note.
The Tigray region is heavily militarized, partly because of its proximity to Eritrea, which fought a war with Ethiopia from 1998-2000. The Northern Command that's situated in Tigray comprises more than half of the armed forces' total personnel and mechanized divisions, according to the International Crisis Group.
Eritrean Information Minister Yemane Gebremeskel and Redwan Hussein, Ethiopia's state minister of foreign affairs who also chairs the government's emergency task force, didn't answer calls seeking comment on Debretsion's remarks.
Abiy said Thursday that the government's forces have "liberated" western Tigray. Clashes are also taking place in the east of the country, where the regional capital of Mekele is situated. Debretsion said air strikes have been carried out on Mekele and the towns of Alamata and Adigrat.
While the government hasn't provided a death toll of its own forces, Abiy said an unspecified number of federal soldiers had been found killed with their arms and legs tied behind their backs in the northern town of Sheraro. He didn't provide any proof for the allegation.
Ethiopia's parliament announced separately on Thursday that it has stripped 39 members, including Debretsion and senior Tigray Liberation People's Front member Getachew Reda, of immunity from prosecution.