'Uninvestable' U.K. Stocks Are Bargains for These Fund Managers
(Bloomberg) -- One of Jim Clarke's favorite words is "uninvestable."
To the fund manager at Legg Mason Inc. unit Brandywine Global, the word is a signal to start looking for bargains. That was the case for Brazilian stocks at the end of 2015, which have since rallied 95 percent after three years of decline, Clarke said by phone from his office in Philadelphia. He now sees similar possibilities for U.K. domestic shares -- shunned, sold and de-rated as the Brexit vote of 2016 bled into ceaseless headlines of Conservative infighting and acrimonious negotiations with the European Union.
"Ultimately, the country will act in its own interest, and the worst case is not as likely as people think," Clarke said. "If many investors consider something uninvestable, that means we're going to get our prices and be able to pick and choose."
To most investors, U.K. stocks are cheap for good reason. With six months left until the U.K. leaves the EU, the two sides have yet to reach a deal on their divorce, and Prime Minister Theresa May looks vulnerable to a leadership challenge or a Labour upsurge.
But contrarians like Brandywine and Invesco Perpetual argue that the U.K. economy is still humming along, and a highly disruptive Brexit is unlikely.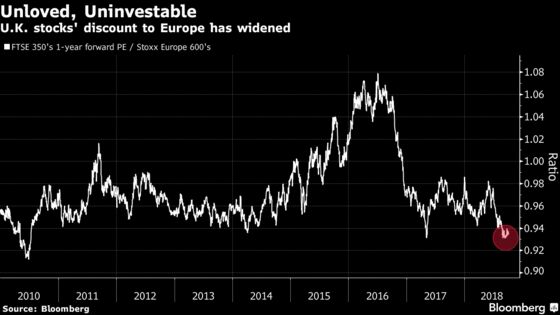 Britain's domestic stocks -- the Greene Kings and BTs of the world -- are also undoubtedly cheap. They're trading near a five-year low relative to the large-cap benchmark, according to a basket compiled by Goldman Sachs Group Inc. Relative to Europe, the FTSE 350 Index of both U.K. large- and mid-caps is around the cheapest since 2010.
"All the mood music around Brexit is simply that," said Martin Walker, a fund manager at Invesco Perpetual in Henley-on-Thames, England, which is overweight on U.K. domestic stocks. "While GDP growth has come off a little bit, it certainly hasn't collapsed."
May promised on Wednesday to end years of fiscal austerity possibly in 2019 and argued for a pragmatic break from the EU that avoids economic shocks, spurring gains in sterling.
U.K. domestic shares have fallen behind partly because the pound's 13 percent slide since the Brexit referendum boosts exporters, but hurts local companies. Both Invesco and Brandywine say sterling is now undervalued.
The underperformance of U.K.-centric stocks has also largely persisted even after the currency recovered strongly in 2017, suggesting more room for a rebound in the case of a Brexit deal, according to Citigroup Inc. The bank upgraded the U.K. to overweight on Wednesday, calling the market its "favorite value trade."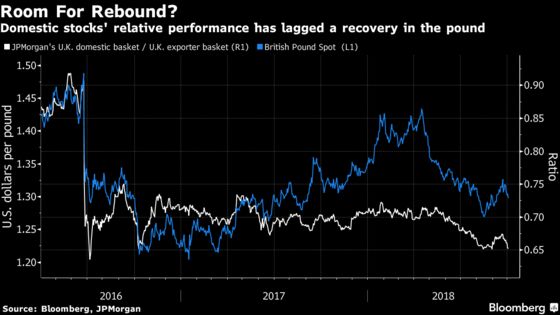 But most investors -- especially overseas ones exposed to a volatile pound -- remain unconvinced. In Bank of America Merrill Lynch's monthly survey of fund managers, the net percentage of those that are underweight on U.K. equities reached the highest since the crisis earlier, and have remained elevated.
And while most investors still expect the U.K. to leave the EU with a deal, much of the details on their future relations may have to be hammered out after the departure, meaning uncertainty is likely to continue weighing on British assets.
If the risk of falling off a cliff recedes, "you got an equity market that's yielding over 4 and it's sitting with all the right sectors," Guy Monson, chief investment officer at Sarasin & Partners LLP in London, said on Bloomberg Television on Thursday, referring to banking, oil, mining and pharma. "The turnaround could be much bigger than investors expect."
Invesco likes retailers such as Marks & Spencer Group Plc and J Sainsbury Plc, as well as financials including Barclays Plc and Royal Bank of Scotland Group Plc, Walker said.
To Brandywine's Clarke, while London home prices may be falling, property stocks exposed to the rest of the country, such as Barratt Developments Plc, are a good bet.
Invesco's Walker says the biggest risk to the U.K. isn't a crash out of the EU, but the rise of a far-left government, which he says would hurt the pound and, in the long term, equities as well. Labour has floated proposals to nationalize certain industries including railways and make companies pay dividends to workers and the government. With Britain's two largest parties neck and neck in the polls, an early election that puts current opposition leader Jeremy Corbyn in power isn't unimaginable.
"The past 10 years in the U.K. have shown us that public spending is a one-way ratchet: it only goes up," Walker said. "It's impossible to take the punch bowl away."