Governor Aims to Make New Jersey 'the Brining State' Ahead of Winter Storms
(Bloomberg) -- New Jersey's official nickname is the Garden State. Governor Phil Murphy, eager to put a November weather mess behind him, has another suggestion.
"If we become the Brining State of America, I won't be upset about that," Murphy told reporters in Jersey City as he discussed preparation for winter storms that are expected to hit the state on Thursday and over the weekend. "I've got no time for the 'over-preparing' critics."
In the weeks since a November snowstorm stranded motorists for five hours or more, and led at least one school to keep students overnight, New Jersey road crews have treated roads with ice-fighting brine at any hint of foul weather. Professional meteorologists and others on social media have called the applications overkill when temperatures weren't forecast for below freezing.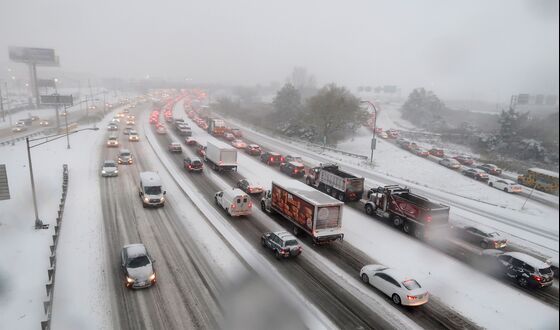 "We're the densest state in the nation," Murphy said. "We've got to be able to move people around."
As much as 3 inches of snow is expected starting Thursday in the New York City area, according to the National Weather Service, and a "significant winter storm" over the weekend. Murphy said cabinet members representing the state police, transportation departments and other agencies met on Jan. 15 to coordinate a response.