Minister Resigns, Fearing National 'Humiliation': Brexit Update
(Bloomberg) -- Theresa May's move to allow Parliament to delay Brexit has cost her a junior minister. Negotiations continue on her unpopular deal, and the European Union has questioned what the point of an extension would be.
U.K. official says "significant work" still needed on Brexit agreement
Minister resigns over move to allow Brexit to be postponed
Barnier says anything other than a brief technical delay needs to be justified
Brexit hardliners appear to be softening their opposition to May's deal
Tory member of Parliament Nicky Morgan says May "can assemble a majority" on Brexit, depending on what concessions EU makes. But the vote will be tight.

Irish Fishing Spat Raises Brexit Tensions (5:05 p.m.)


Already heightened tensions over the Irish border were turned up a notch on Thursday when the Dublin government was accused of impounding two trawlers from Northern Ireland for fishing in its territorial waters.
Nigel Dodds, deputy leader of the Democratic Unionist Party, which props up Theresa May's government in Westminster, said the move "utterly exposes the Irish faux concern about a hard border."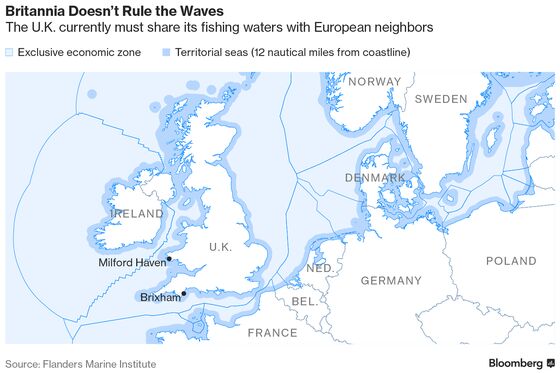 U.K. Stepping Up No-Deal Brexit Advertising (4 p.m.)


With a month to go until Brexit, and still no deal agreed, the U.K. is ramping up its publicity around the implications of leaving the bloc without an agreement. Radio, newspaper and billboard adverts are already running, and the government will soon run television adverts. May's spokeswoman, Alison Donnelly, told reporters on Thursday that it's all "part of a planned schedule."
"It's part of our work increasing the intensity of no deal communications," Donnelly said. "We've been doing that in recent weeks across a range of channels."
The government will want the adverts to work better than publicity so far: it admitted in a document released earlier this week that "despite communications from the government, there is little evidence that businesses are preparing in earnest for a no-deal scenario."
Minister Resigns, Saying Delay Means Humiliation (2:50 p.m.)

George Eustice, a pro-Brexit minister, resigned over May's move to allow Parliament to delay the divorce to avoid a no-deal.
"I fear the developments this week will lead to a sequence of events culminating in the EU dictating the terms of any extension requested and the final humiliation of our country," he wrote to the prime minister.
"We cannot negotiate a successful Brexit unless we are prepared to walk through the door," he said.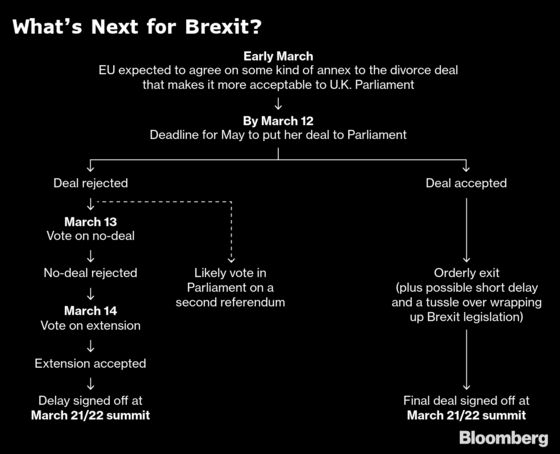 Barnier Says Need to Know Purpose of Delay (1:45 p.m.)

Chief EU negotiator Michel Barnier said a delay to Brexit is possible, but the EU will need to know what it's for. He drew a distinction between a "technical extension" put in place to avoid a no-deal scenario, and a longer one. A longer delay would have to serve a purpose.
Barnier reiterated that the deal is done and won't be reopened. He's willing to offer assurances about the backstop.
"We have finished our work," he said, holding up the hefty tome of the withdrawal treaty.
Austrian Chancellor Sebastian Kurz said Brexit should be done before the EU elections -- the poll is in May and the parliament reconvenes in July. Otherwise it would be "absurd." He expects the EU to agree to an extension.
U.K. Says Significant Work Still to Be Done (11:45 a.m.)
There's still lots of work to be done in negotiations to make the divorce deal more palatable, according to a U.K. government spokesman. That makes it unlikely that a vote on the revised agreement could be brought forward to next week.
The government is trying to make sure that the U.K. can't be trapped in the EU's orbit indefinitely, and so is seeking changes to the so-called Irish backstop.
U.K. Says Brexit Laws Will be Passed in Time (11 a.m.)
Leader of the House of Commons Andrea Leadsom said she's "comfortable" the government will pass all the laws it needs by Brexit day.
Bills covering immigration, agriculture and fisheries are all currently before the Commons, while healthcare, trade and financial services bills are "also progressing," she told lawmakers. In all, there are 9 bills that need to be passed, she said.
She said the government has prepared more than 460 pieces of secondary legislation -- which don't need full Parliamentary scrutiny -- to date; which is more than three-quarters of the total that will be needed. Of those, more than 240 have been passed, she said.