'Partygate' Fuels U.K. Tories' Alarm About Boris Johnson
(Bloomberg) -- Conservative MPs are watching Boris Johnson stonewall over allegations of pandemic rule-breaking parties at his office with horror -- and a degree of gallows humor.
Opposition politicians have called for the U.K. leader's resignation over the latest claims, about a "bring your own bottle" party at the height of a lockdown meant to stem the first wave of coronavirus infections in 2020. Johnson's spokesman confirmed Tuesday that police are talking to officials.
But it is the reaction of his own Tories that will be of most concern to the prime minister. One Conservative member of Parliament privately described the mood among colleagues as sulfurous, while predicting the premier will survive because he's prepared to brazen it out. Another, though, said the scandal will ultimately mean the end of the road for Johnson.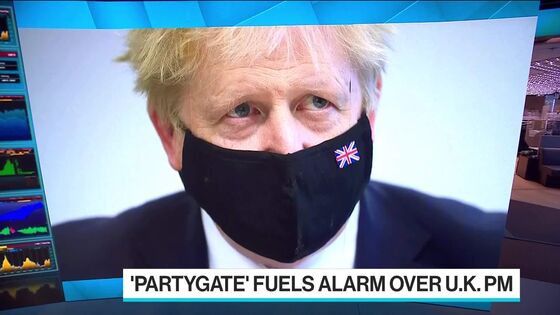 It's a significant moment of peril at the worst possible time for Johnson, who had hoped to begin 2022 with a reset after a turbulent end to last year when support for the Conservatives plummeted in the polls.
A string of allegations about other rule-breaking gatherings in Westminster -- dubbed "partygate" by the U.K. media -- was compounded by a damaging loss in a special election and widespread criticism over how he had funded the refurbishment of his Downing Street flat.
Instead, the year has picked up from where 2021 left off, with the Tories still trailing the main opposition Labour Party and two surveys on Tuesday showing a majority of voters think Johnson should resign.
A YouGov survey of almost 5,400 adults found 56% thought Johnson should resign, while the proportion saying so in the Savanta ComRes poll was 66%. Of Tory voters, 33% and 42% said he should go in the two polls.
Also weighing on Johnson is a burgeoning cost-of-living crisis that looks set to come to a head in April when energy bills are due to rise by about 50%, just as a new tax announced last year by Chancellor of the Exchequer Rishi Sunak comes in. All of that makes for a toxic mix for the Tories who will face local elections the following month.
Johnson, who hasn't denied attending the party on May 20, 2020 at the center of the latest allegations, will almost certainly face a rowdy weekly session of Prime Minister's Questions in Parliament on Wednesday. 
Yet all the signs are he's preparing to ride out the storm, just as a prime minister known for his Teflon qualities has done many times in the past. On Tuesday, he sent out a junior minister to handle lawmakers' questions, while his spokesman told reporters the alleged party was not discussed at cabinet.
Speaking in the House of Commons, Cabinet Office minister Michael Ellis said the latest allegations would be added to a probe already being carried out by senior civil servant Sue Gray, who is due to report her findings shortly.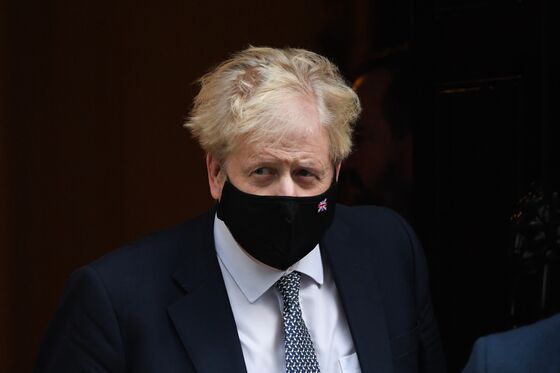 "If wrongdoing is established, there will be requisite disciplinary action taken," he told MPs. "If evidence emerges of what was potentially a criminal offense, the matter would be referred to the Metropolitan Police."
The May 20 party was first revealed last week by Johnson's former top aide, Dominic Cummings, who left his post on acrimonious terms in late 2020. Then this week, ITV obtained an email sent to more than 100 staff by Johnson's principal private secretary, Martin Reynolds, inviting to them to the event.
Reynolds is not expected to resign, according to two people familiar with his thinking. 
ITV said about 40 people ultimately attended, and other media companies have reported Johnson was among them. Asked about the party this week, he deflected the question, saying "all that as you know is the subject of a proper investigation by Sue Gray."
At the time of the event, Johnson's government was issuing strict orders to the public about adhering to lockdown rules, which allowed people to meet only one other person outdoors in a public place.
While a formal investigation hasn't been opened, a police spokesperson said the Metropolitan Police is aware of allegations of rule-breaking and is liaising with the government. Johnson's office said officials are helping the police. 
Johnson is likely to be hoping the latest developments will not do any further significant damage to his popularity, given the reports of rule-breaking parties have now been running for some time.
Even as Britain battles a record Covid wave fueled by the omicron variant, restrictions are much lighter touch than in past waves, and are due to end on Jan. 26. That may affect how the public view the party scandal.
One Tory MP said they see Johnson surviving for now, because people underestimate how just how hard it is to oust a sitting premier. Others wrote in a Tory MPs' WhatsApp group on Tuesday that the best approach for now is silence, until Gray publishes her report.
Others poked fun at the situation. Efforts by Tory MP Michael Fabricant to defend the premier in a television interview were likened by one of his colleagues to swimming the wrong way up a fast-flowing river.
But the frustration at Johnson's approach is also being laid bare in public. 
"It's not prejudging Sue Gray's inquiry to tell the public -- for the prime minister to come forward and say if he was at the party or not," Scottish Tory leader Douglas Ross, who's also an MP in the U.K. Parliament, told Sky News. "We need the prime minister to answer that simple question."