'No Way' North Korea Disarms Without U.S. Trust, Diplomat Says
(Bloomberg) -- Pyongyang won't dismantle its nuclear weapons until it has "sufficient trust" with the U.S., North Korea's top diplomat told the United Nations General Assembly, pressuring the Trump administration to drop its "coercive methods" such as sanctions.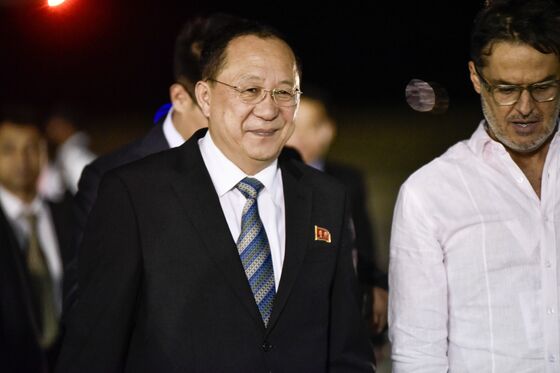 The remarks by North Korea Foreign Minister Ri Yong Ho underscored lingering friction between the nations amid signs their diplomats have resumed talks to prepare for a second summit between President Donald Trump and North Korean leader Kim Jong Un.
"Without any trust in the U.S. there will be no confidence in our national security," he said at the 73rd General Assembly. Ri added that "under such circumstances there is no way we will unilaterally disarm ourselves first."
Earlier this week, Secretary of State Mike Pompeo said he had a "very positive meeting" with Ri, and agreed to visit North Korea next month to prepare for another summit.
"The DPRK government's commitment to the denuclearization is solid and firm," Ri said, calling North Korea by its official name. "However, it is only possible if the U.S. secures our sufficient trust towards the U.S."
North Korea's top diplomat also called for the UN to ease sanctions to help his government's efforts to develop its economy, something that Pompeo has ruled out until the North's complete and verified ending of its nuclear program.
"The reason behind the recent deadlock is because the U.S. relies on coercive methods which are lethal to trust-building," he said in the speech.
Ri also urged the U.S. to reciprocate Pyongyang's "good-will measures" by implementing the June agreement made between Trump and Kim in Singapore. The U.S. president and the North Korean leader agreed to the complete denuclearization of the Korean peninsula and to establish new relations between the nations.
At the UN, North Korea repeated its request to the U.S. to declare the end of the 1950-1953 Korean War, which ended with a cease-fire without a peace treaty. Skeptics of Kim's motivations worry that the U.S. might withdraw troops from South Korea and UN sanctions could be lifted if the war is declared over. North and South Korea see declaring the end of the war as a key to building trust between the United States and North Korea.
If North Korea and the U.S. continue to have mistrust, the Singapore agreement "cannot escape the same fate of failure as all the previous agreements between the two countries," Ri said.