'Lyin' Ted' Gets Boost From 'Sleazy Donald' With Texas Rally
(Bloomberg) -- Donald Trump is heading to Texas Monday to bolster Republican Senator Ted Cruz -- the man he dubbed "Lyin' Ted" when they were campaign rivals -- but the president's appearance could backfire and instead motivate Democrats.
Trump's approval rating is split, even in red-state Texas, where Cruz faces an unexpectedly strong challenge from Democrat Beto O'Rourke. Monday's presidential visit, at the very least, is an awkward turnaround from an antagonistic history between Trump and Cruz.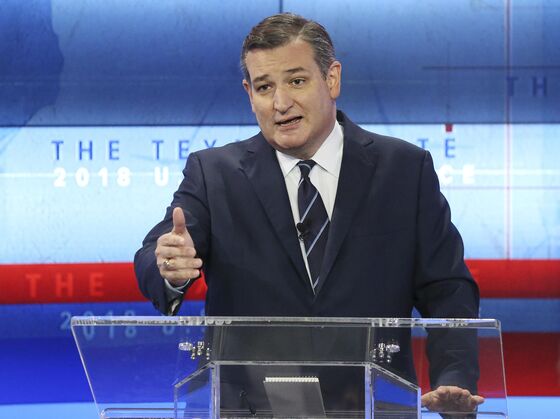 Trump insulted Cruz's wife during the 2016 campaign and even suggested Cruz's dad may have played a role in the assassination of John F. Kennedy. Cruz called Trump "sleazy Donald" and a "sniveling coward," and endorsed him only after getting booed off the Republican National Convention stage for telling people to vote their conscience.
Now, Cruz will be a "happy guest" at the Trump rally in Houston, spokeswoman Emily Miller said in an email.
Trump backed away from his campaign-trail denigration of the Texas senator on Monday.
"He's not 'Lyin' Ted' anymore," Trump told reporters as he left the White House to travel to campaign for the senator. "I call him 'Texas Ted."'
The main goal of the rally -- on the first day of early voting in Texas -- is to energize GOP voter turnout on Nov. 6 to at least the level in prior mid-term congressional elections. Trump's impact will be felt by both parties, but with variations throughout the state's 36 congressional districts.
'A Mixed Bag'

"It's inevitably a mixed bag, given that it has the potential to help Democratic mobilization, too," said James Henson of the University of Texas-Austin, who directs the Texas Politics Project at the University of Texas Austin.
O'Rourke, a progressive three-term House member from El Paso, has used an engaging personal style, prodigious grassroots fundraising, and unconventional videos to raise more money than Cruz and to fashion himself into a political celebrity in Texas and across the U.S.
Michael Glassner, chief operating officer of the Trump campaign, said in a statement last week that Trump "looks forward to celebrating the booming Trump economy that's delivering new jobs and bigger paychecks to the hardworking men and women across the Lone Star State."
The rally at least partially fulfills Trump's promise in August when he tweeted: "I will be doing a major rally for Senator Ted Cruz in October. I'm picking the biggest stadium in Texas we can find. As you know, Ted has my complete and total Endorsement." The event is set for the 18,000-seat Toyota Center, home of the Houston Rockets basketball team.
The endorsement for Cruz comes from a GOP president whose favorable/unfavorable rating among likely Texas voters was split evenly at 47 percent in a poll by Emerson College in Boston. The poll taken Oct. 1-5 showed Cruz leading O'Rourke by 5 percentage points, with a margin of error of plus or minus 4.5 percentage points. An Oct. 3-9 Quinnipiac Poll had Cruz up by 9 percentage points.
Despite the statewide advantage for Cruz -- and even though Trump won Texas in 2016 over Hillary Clinton by 9 points -- some Texas Democrats in competitive big-city congressional races are linking their opponents to the president, seeing benefit in making their campaigns a partial referendum on Trump.
That includes in the Dallas-area race pitting GOP Representative Pete Sessions against Democrat Colin Allred, who responded last month when Sessions called himself a "Reagan Republican" by asserting that the incumbent is actually a "Trump Republican."
Trump lost that Dallas-area district to Hillary Clinton by 1.8 percentage points. Trump also lost to Clinton by 1.4 points in a Houston-area district where House GOP incumbent John Culberson faces a competitive challenge from Democrat Lizzie Fletcher.
Both districts are rated as toss-ups by the non-partisan Cook Political Report, and neither Sessions or Culberson are planning to attend the Trump rally.
No Democrat has won a statewide race in Texas since 1994. The White House and Cruz say there is no real alarm about the Senate race, insisting Monday's rally was discussed since early this year and shouldn't be taken as the president riding to the rescue.
Cruz said in an interview last month he's not worried about what it looks like to be aligning himself with a president he once called a "pathological liar." He said he made a choice when Trump won the presidency that working with him is what's best for Texas.
Trump has predicted that Cruz will win by "a lot." Even before the president's visit, Donald Trump Jr. campaigned this month for Cruz in Texas, and Ivanka Trump, the president's daughter, was in Houston in September for a tour of NASA with Cruz.
Henson, of the Texas Political Project, said Texas records show that about 2.8 million Republicans voted in midterm Senate races in 2010 and 2014, compared with about 1.9 million Democrats. Even if there's a significant increase from prior low turnouts by younger voters and Democratic-leaning Latinos, O'Rourke faces an uphill battle if Cruz can at least maintain the recent GOP turnout.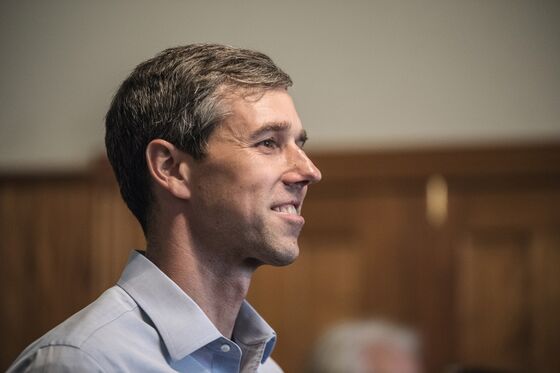 "Beto is banking on the young and minority voters, typically the least inclined to vote," said Paul Brace, a political scientist at Rice University in Houston. Still, he said O'Rourke "seems to be doing an uncommonly good job of generating enthusiasm."
'Normally Reliable' Voters
"Cruz is banking on normally reliable Republican voters, as the GOP is in the process of being commandeered by Trump," Brace said. "I am not sure how far this has progressed in Texas."
Henson said that in practical terms, there's no getting around the fact that Trump is the leader of the Republican Party and remains popular with the GOP base.
While it's risky for Republican House candidates to tie themselves to the president because their districts may differ from the statewide electorate, Henson said, Cruz's strategy is to mobilize Republican voters on the assumption that their traditional statewide advantage is enough to absorb whatever Democratic surge O'Rourke can generate.
"In the end, Trump is likely helpful to this effort," said Henson. "So Texas, here he comes."