Italian Finance Chief Feels Pressure of Populist Budget Row
(Bloomberg) -- Italian Finance Minister Giovanni Tria has complained that he is the victim of one ambush after another as his position in the government is called into question amid tensions with populist leaders over a spending spree to fund election policies, according to newspaper Il Giornale.
Tria, 70, told reporters that resignation is "a hypothesis that does not exist" on a visit to Venice. He added "there is no message" when asked about Il Giornale citing what it said was a text message that Tria sent to his friend Renato Brunetta of the center-right Forza Italia party. Brunetta did not respond to a request for comment.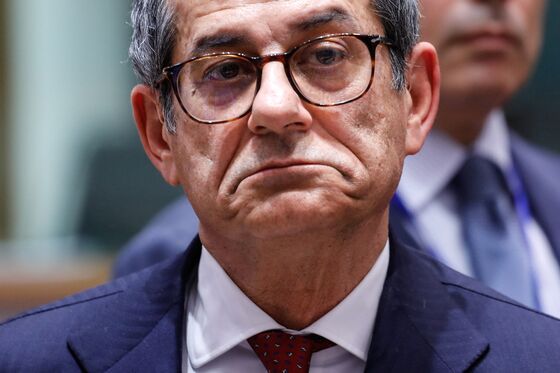 "I can't take it any more, I'm subjected to one ambush after another," Tria was quoted as saying by Il Giornale. "The last one was sending me before the parliamentary committee on my return from Ecofin. The only thing that interests me is saving the country. That is my light. Otherwise, if it was just up to me, already ..." Ecofin is the meeting of European Union finance ministers.
Speculation about Tria's possible resignation during or after the budget process has surfaced often in the past, including in September when the government was finalizing the first draft of its 2019 spending plans. His future now looks again uncertain as tensions reach a new high ahead of a possible budget offer to European Commission head Jean-Claude Juncker.
Italian bonds were set for their third week of gains, shrugging off questions over Tria's future, who is seen as one of the most market-friendly voices in the current administration. Italian 10-year yields have been slowly grinding toward 3 percent, a level they have not been beneath since September. They stood at 3.15 percent Friday, with the spread over their German peers at 290 basis points.
Deputy premiers Matteo Salvini of the anti-migration League and Luigi Di Maio of the anti-establishment Five Star Movement earlier this week flagged their faith in Prime Minister Giuseppe Conte's role in the talks, a stand seen as sidelining Tria. Conte and Tria are seeking to persuade Salvini and Di Maio to dilute or delay landmark election pledges -- welfare benefits for the poor, for Five Star, and a lower retirement age, for the League.
Tria has long pushed for a deficit target below 2 percent, and for a conciliatory approach to the commission, according to government officials who declined to be named discussing confidential negotiations. The commission has rejected a deficit target of 2.4 percent for next year and could eventually fine Italy.
Il Giornale said the message did not use the word resignation. But several Italian newspapers reported Friday that Tria's job was in doubt, as he pushes for budget caution, with Salvini and Di Maio eager to start delivering on their promises.
Di Maio voiced support for Tria, saying in an interview with Radio24 that he had "full confidence" in the minister. Di Maio said Tria is carrying out budget negotiations with European commissioners Valdis Dombrovskis and Pierre Moscovici, while Conte is pursuing talks with Juncker.
Di Maio said there will be no need to delay the welfare benefits or the pension reform, adding both measures will cost less than initially estimated. Not all the potential beneficiaries will take advantage of the lower retirement age and "the citizen's income starting in March will cost a little less," he said. Di Maio denied later that Tria's resignation was possible.
Both Conte and Di Maio want Tria to step down, possibly in January after the budget has been approved by parliament, while Salvini is unconvinced, according to newspaper La Stampa. Newspaper Corriere della Sera speculated on the possibility of a resignation as soon as next week.
Tria has no intention of stepping aside, La Repubblica reported. The paper quoted him as saying: "I wouldn't have reasons to quit, especially now that the government is reaching the positions I have always expressed."
The government is in the meantime pushing the budget through parliament, and has called a confidence vote in the lower house expected to take place late Friday. Confidence votes are often used in Italy to ensure legislation is passed. The budget would then go to the Senate, where it is likely to be amended, and then back to the lower house for final approval.