Trump Raises $20 Million at Virtual Fundraiser: Campaign Update
(Bloomberg) -- President Donald Trump raises $20 million. Democratic nominee Joe Biden says Michigan Governor Gretchen Whitmer is still under consideration as his running mate and Biden's latest ad draws a contrast with Trump on masks and the coronavirus.
There are 105 days until the election.
Trump Raises $20 Million at Virtual Fundraiser
Trump raised more than $20 million from 300,000 donors in his first national virtual fundraising event, his campaign said, one of the best single event tallies he's notched since formally launching his re-election bid last year.
Trump fielded questions from the White House during the event, which included appearances by his daughter Tiffany Trump, Treasury Secretary Steven Mnuchin and White House Chief of Staff Mark Meadows. An educator from Texas who won a contest got a Zoom call with the president afterward.
The $20 million tally makes the event one of Trump's top-grossing fundraisers. He raised $24.8 million in less than 24 hours when he officially began his re-election bid in June 2019. His birthday fundraiser on June 14 took in $14 million.
Supporters could join the Tuesday fundraiser for as little as $45. Proceeds went to Trump Victory, which splits donations between his campaign, the Republican National Committee and 24 state party committees. Normally Trump Victory events have a much higher price of admission -- the maximum amount donors can give is $580,600.
"The most important measure of success in this race is enthusiasm, and the enthusiasm from President Trump's supporters cannot be matched," Trump Victory National Chairwoman Kimberly Guilfoyle said in a statement. -- Bill Allison
Biden Says Whitmer Still Possible Running Mate (8:26 p.m.)
Michigan Governor Gretchen Whitmer is still under consideration to be Biden's running mate, the Democratic nominee told a television station in the state on Tuesday.
The Democratic nominee responded with a simple "yes" when asked whether Whitmer was still on his list. He also described Michigan as "incredibly" important to his campaign.
Biden is leading Trump by almost 8 percentage points in the battleground state, according to the average of polls compiled by RealClearPolitics.
Biden offered some other hints about his selection process this week, saying Monday that four Black women are on his list. The lawyers working on vetting the candidates have begun to brief him on what they've found in their research. -- Jennifer Epstein
Biden Contrasts with Trump on Coronavirus Masks (5:34 p.m.)
The Biden campaign's latest ad uses the divide over wearing masks to draw a contrast with Trump over his handling of the coronavirus.
The minute-long spot, part of a $15 million push in six battleground states, features Biden's remarks from a June 30 speech on coronavirus in Wilmington, Delaware.
"Infection rates are now going up in more states than they are going down. We've got to fight this together," Biden says in the ad. "Wear a mask. Keep your distance. Limit the size of crowds. It may be inconvenient. It may be uncomfortable. But it's the right thing to do as an American."
The ad shows Biden wearing a mask in 14 different shots, including at a news conference, an interview, a roundtable discussion, a church and when walking with his wife near the Washington Monument.
Trump has expressed skepticism of masks and didn't wear one publicly until a recent visit to the Walter Reed National Military Medical Center near Washington. But on Tuesday, he appeared to take a different stance. "We're asking everybody when you are not able to socially distance wear a mask," he said at a White House coronavirus briefing.
The ad spending is a significant increase for the Biden campaign. Its first major ad buy, which was also $15 million, was spread over five weeks. The campaign said it will also be bolstering national spending on sports and news channels, including Major League Baseball games.
Two Federal Employee Unions Endorse Biden (11:30 a.m.)
The two largest federal employee unions endorsed Biden on Monday, as he continues to court the labor vote.
The American Federation of Government Employees, which represents 700,000 federal workers, and the National Treasury Employees Union, which represents 150,000 workers, announced they are supporting the Democratic nominee.
In a statement, NTEU President Tony Reardon said Biden "told me personally" that he would rescind three executive orders targeting federal workers that Trump signed in 2018.
The orders made it easier to fire federal workers, ordered federal agencies to renegotiate union contracts and limited union hours spent on the clock. They have been a particular focus of the two unions, which fought them unsuccessfully in court.
Both unions have backed the Democratic presidential nominee in recent cycles, but Biden has courted labor quite publicly, citing union jobs dozens of times in a recent speech about clean energy and describing himself as a "union man."
Florida Sheriff Warns of Security Problems at Republican Convention (8 a.m.)
After feuding with North Carolina Governor Roy Cooper over the coronavirus, Trump moved key parts of the Republican National Convention to Jacksonville, Florida.
Now he's facing similar concerns from local police.
Speaking to reporters Monday, Duval County Sheriff Mike Williams, who is a Republican, said he is "past the point of no return" to safely hold the convention, slated to start on Aug. 24, because he lacks the "finances and resources."
"I don't know where to go from here," he said. "I just know what I have in front of me isn't going to work."
The Republican National Committee said that it continues to "work closely with local leadership" on health and safety issues.
"Jacksonville has accommodated upwards of 70,000 people for football games and other events, and we are confident in state, local and federal officials to be able to ensure a safe event for our attendees," said RNC spokesperson Mandi Merritt.
'Double Haters' Help Boost Undecided Vote (6:30 a.m.)
The number of undecided voters in the presidential election is hovering near its highest point in the 2020 election cycle, with an average of 11.2% of respondents choosing neither Biden nor Trump across polls tracked by RealClearPolitics.
One reason for the growing number of undecided voters is Biden's falling net favorability rating, which has fallen 11 points in the last month, according to a new NBC News/Wall Street Journal poll. The poll counted 13% of voters as undecided, and found that they largely have unfavorable impressions of both Biden and Trump.
Those so-called "double-haters" are largely disaffected Republicans who say they prefer a Republican Congress but aren't sure about the president. Even if they don't break for Biden, they could help decide the election simply by staying home on Election Day. -- Gregory Korte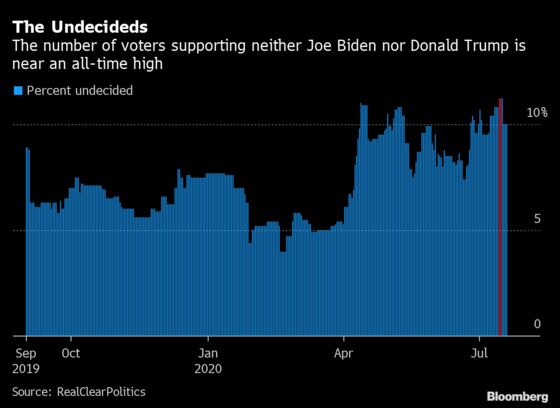 Trump's Mask Messaging Veers Again (6:30 a.m.)
The White House appears to be trying to clear up the president's opinion on masks after he made conflicting remarks Sunday.
During an interview on Fox News, Trump blamed the surgeon general and his top infectious disease expert for advising against masks early in the pandemic, said "masks can cause problems too" but then added that he thinks "masks are good."
On Monday morning, Surgeon General Jerome Adams went on "Fox and Friends" to plead with viewers to wear masks. "I'm begging you. Please understand that we are not trying to take away your freedoms when we say, 'Wear a face covering,'" he said.
Then, on Monday afternoon, Trump tweeted a black-and-white photo of himself wearing a mask.
"Many people say that it is Patriotic to wear a mask when you can't socially distance," he tweeted. "There is nobody more Patriotic than me, your favorite President!"
Biden's 'Day-One' Agenda Grows Longer (6:30 a.m.)
Biden has added another to-do item to the short list of actions he has promised to take on the first day of his potential presidency.
During a virtual appearance before a Muslim political action committee Monday, Biden pledged to end Trump's travel ban "on day one."
He has previously pledged to send to Congress a bill with a path to citizenship for people brought to the U.S. illegally as children, sign a series of executive orders to reduce greenhouse gas emissions, sign an executive order barring White House interference in Department of Justice prosecutions, rejoin the Paris agreement, "make smart infrastructure investments" and "get right to work" on the coronavirus.
Vice President Mike Pence will travel to Indiana on Friday to meet with higher education officials on reopening schools.