'Clear as Mud': Market Strategists on What Comes Next in Brexit
U.K. Prime Minister Boris Johnson's defeat in Tuesday's vote suggests that the risk of the U.K. crashing out of the European Union without a deal is diminished, for now, and a general election may be on the cards.
The pound inched higher after the vote and the FTSE 100 advanced 0.4% this morning. The market has been underperforming since the start of the year, hurt by Brexit uncertainty, with the FTSE 100 up 8.4% in 2019 and the Euro Stoxx 50 up 15%. In dollar terms, the FTSE 100 is only up 3.2% this year.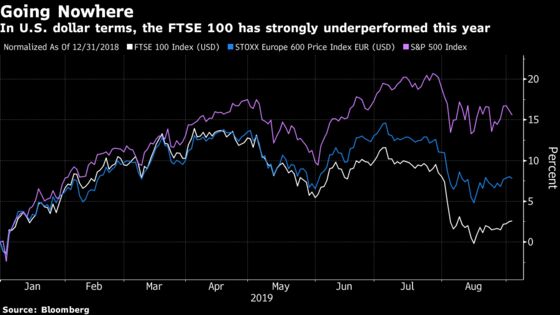 A vote on legislation to block a no-deal exit is set to take place on Wednesday. Here's what market participants had to say after Tuesday night's developments:
Raymond James, Chris Bailey
"Amazingly - this late in the day - multiple scenarios still exist, but Parliament has spoken and the pound even edged up in the immediate aftermath of the vote, showing a lot of concern around a no-deal has already been factored in."
"Predictability around both an election occurring let alone its precise result remains very low, but so is the average allocation to U.K. assets by global investors versus history. The brave will conclude at least a step to potentially more clarity has been taken. Keep watching the pound for the views of global markets."
Mediolanum, David Holohan
A general election and a further extension beyond end of October for a deal look likely, and "this scenario should support sterling against the euro and the dollar, but only modestly so until a general election is confirmed."
A general election would likely be taken well by investors, leading to stronger sterling which would correspond to outperformance of the FTSE 250 vs. FTSE 100, and would be positive for domestic U.K. banks and consumer discretionary stocks.
Jefferies, Sean Darby, Kenneth Chan, Tommy Tang
Notes that the odds of the U.K. officially leaving the EU by Nov. 1 have dropped sharply to around 35%, citing PredictIt.
Among undercurrents in the U.K. equity market, notes that high beta stocks were "decimated in August, setting the market up for a 'bounce.'"
"Heightened risk aversion has created some potential mean reversion trades with copper prices trading at 2 s.d. versus gold."
Remains modestly bullish on the FTSE 100 within global asset allocation.
TFS Derivatives, Stephane Ekolo
"Even though it seems that this Brexit drama resembles more and more a soap opera with countless twists and turns, I expect a sort of relief for U.K. stocks."
"That being said, nothing has fundamentally changed and given the uncertainty that still prevails (another vote today, snap election likely), I don't think that this relief rally will be sustainable. U.K. exporters should still be favored vs domestic U.K. shares."
"The situation remains as clear as mud. Uncertainty has probably increased and been extended. Plainly this is dampening to the economy's so-called 'animal spirits' and at the margin will continue to undermine consumers' spending and companies' investment intentions."
"It still seems sensible to be cautious on domestic areas of the stock market such as banks, housebuilders and retailers."
Brooks Macdonald, Edward Park
"'Do or die' has become the key phrase linked the Prime Minister's Brexit position but it's not a strategy we'd recommend for asset allocation. As a result, we maintain our existing underweight position to the U.K. and specifically U.K. large cap equities given the inbuilt currency hedge they provide as sterling is likely to remain the markets' punch bag as concerns rumble on."
"Until the risks have moderated to an extent that investors can be tempted by the valuation and dividend attractions of U.K. risk assets, it is likely that international asset allocators will continue to shun U.K. exposures."
DeVere Group, Nigel Green
"Should MPs prevent a no-deal Brexit at the end of next month, we can expect the pound to get a boost. But at the same time, political upheaval and a general election will likely push sterling down. As such, the U.K.'s currency remains volatile and vulnerable."
Domestic U.K. investors and international investors with exposure to U.K. assets should "take steps to safeguard their assets," and the best way to do this is to ensure portfolios are "properly diversified across asset class, sector and regions, and to remain invested to take advantage of the upsides."
Boris Johnson's loss may be seen by some as a good step to avoid a no-deal. "But when better implies an inability to answer about when, then uncertainty prevails," with negative consequences including postponement of investment decisions and loss of potential growth.
With this in mind, forcing a no-deal Brexit through general elections "will maybe not be the Armageddon some are fearing."
Notes that the BOE will adopt an accommodative stance and that U.K. public finances are in "good shape," allowing budget policy to mitigate negative GDP effects: "so past the awe it is likely that the market will move on."
Makor, Stéphane Barbier de la Serre
"Beyond the fact that this latest round is rather GBP friendly (and symmetrically FTSE 100 negative) do not expect a lot of volatility," as markets have well anticipated the outcome.