Zalando's Real Problem Isn't Sun. It's Amazon
(Bloomberg Opinion) -- Unseasonable weather can play havoc with retailers' sales.
So, with the high temperatures that Europe enjoyed this summer continuing into September, sales of coats and sweaters are bound to have taken a hit.
But the severity of Zalando SE's profit warning – the second cut to the forecast in six weeks – suggests there is more going on here than inclement weather.
The company on Tuesday said that full-year sales would increase at the low end of its 20-25 percent projected range. Previously it had expected growth in the lower half.
It forecast underlying earnings before interest and tax of between 150 million euros ($175.1 million) and 190 million euros. It had last guided for profit to come in at the lower end of a 220 to 270 million euro range.
That looks like a very big impact, and the shares fell as much as 20 percent. Add in Zalando's heavy investment schedule – it will spend 350 million euros this year as it expands its logistics network – and it's little wonder that investors have taken fright.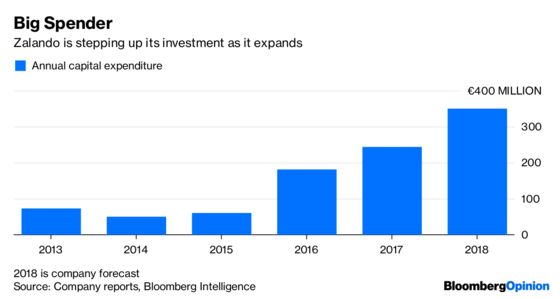 Retailers have had to endure warm autumns for the last few years now. They have learned how to cope, and now stock more "transitional" products: items that can still be bought even if summer sticks around.
What's more, though a heatwave can keep consumers out of the shops, they will still order online. So Zalando should have been better placed than others to weather the lack of a storm.
This points to a deeper issue. The company develops just 10 percent of its product range in-house. In contrast, about half of the products that Asos Plc sells are its own labels, while Boohoo Group Plc is entirely own-brand.
That means it's easier to comparison shop against Zalando's selection, putting it more directly in the firing line of Amazon.com Inc. And if there is any broad hit to consumer demand that prompts others in the market to offer discounts, that will pile pressure on the company to introduce its own deals.
U.K. competitors Asos or Boohoo.com are more immune to these factors, and they're also making great strides in getting the hottest looks to shoppers more quickly, giving them greater flexibility when the weather turns against them.
Shares in Asos fell 6 percent on Tuesday. Next Plc and Marks & Spencer Group Plc also suffered.
That looks overdone. Asos has a broader geographic reach than Zalando, making it less exposed to unseasonable weather in any one market. Asos's 2018 fiscal year finished two weeks ago. So far, it has provided no update to the market beyond its third-quarter statement in July. If sales had slumped, it should have made an announcement by now.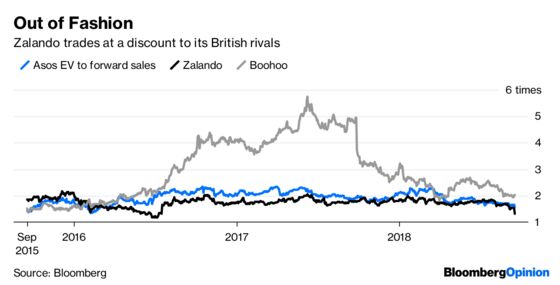 Meanwhile in the U.K., although there have been some hot days, mornings and evenings have been chilly, and some days have been cooler, making shoppers more inclined to think about coats and jackets.
And high temperatures don't prevent people from buying the most desirable products. That even applies to perennial laggards like M&S. Some of its most cutting-edge autumn/winter styles are already sold out.
On an enterprise value to forward sales basis, Zalando rightly trades at a discount to both Asos and Boohoo.
Given the challenges in its business model, and its big spending, its hard to see that narrowing, even when summer skies are a distant memory.
This column does not necessarily reflect the opinion of the editorial board or Bloomberg LP and its owners.
Andrea Felsted is a Bloomberg Opinion columnist covering the consumer and retail industries. She previously worked at the Financial Times.