Got Dividend Jitters? Take a Look at Emerging Markets
(Bloomberg Opinion) -- Now that your dollars finally provide a real yield, it's time to take a hard look at dividends. 
Over the last decade, U.S. companies have been the most generous to investors. Since 2009, S&P 500 members shelled out more than $8 trillion in dividends and buybacks, propelling the longest bull run in history.
Investors are now more skeptical, because several of those trillions were funded by debt. The median S&P firm's net debt-to-equity ratio doubled, to 61 percent last year from 31 percent in 2010. According to the latest survey of fund managers by Bank of America Merrill Lynch, a net 33 percent of investors think the payout ratio in the U.S. is too high. "The slide and collapse in investment grade credit has begun," Scott Minerd, global chief investment officer of Guggenheim Partners, said Tuesday. 
Welcome to emerging markets, where dividend yields are higher and corporate balance sheets are cleaner.
After this year's painful 16 percent slide, emerging Asia is offering the highest dividend yield differential to the U.S. in at least five years. Now that a three-month money-market account returns 2.6 percent, where should dollar investors put their cash?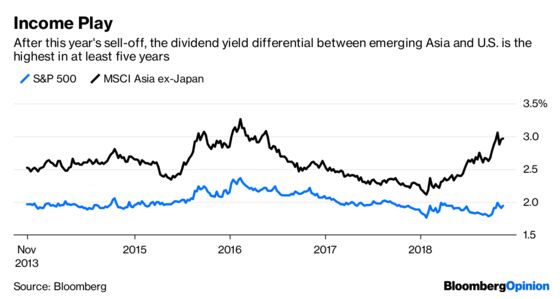 Companies in emerging Asia also have better dividend health, based on a Bloomberg proprietary forecasting model that looks at variables such as profitability, payout ratios and net leverage — 70 percent better than their U.S. counterparts, in fact. Over the next year, the Asian group should generate a 3.44 percent dividend yield, against 2.4 percent for S&P 500 companies, according to that model.

Not surprisingly, 45 percent of fund managers in the BAML survey saw non-U.S. equities as the best performers in 2019, while only 17 percent favored U.S. stocks.
There's one caveat, however. 
Faced with uncertainty and earnings volatility, Asian companies are more likely to cut payouts, while their U.S. counterparts are more inclined to just march on, funding them with debt instead. Last year, despite a bull run, 14 percent of Asian firms reduced dividends, compared with only 5.4 percent in the U.S.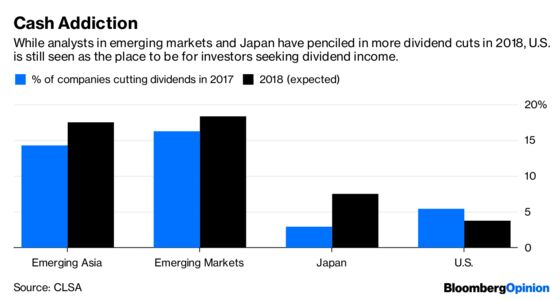 A case in point, Globe Telecom Inc. of the Philippines — an income play with a 4.9 percent dividend yield — caused a stir this month when it slashed the payout ratio by 15 percentage points, surprising analysts, investors and the Bloomberg model. Globe's shares tumbled 18 percent in the next three trading days.
It's hard to blame Asian companies for getting cold feet, though. In the past, emerging markets were the first to have the rug pulled out from under them when global liquidity tightened, and this year is no exception.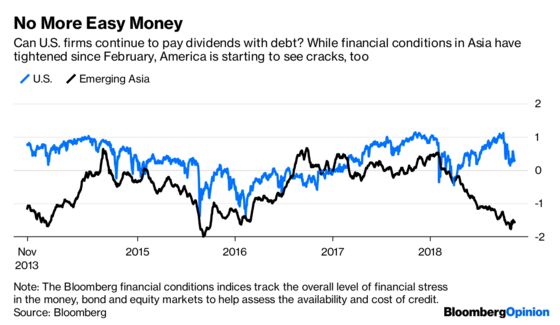 Instead, look at this as a glass half-full. Sell-side analysts (and the Bloomberg model) have pretty much baked in potential dividend cuts, and they're still churning out good-looking numbers. In the U.S., only 3.8 percent of companies are expected to reduce payouts — though as my colleague Robert Burgess argued, credit markets there are bracing for something bad.
General Electric Co.'s dividend cut and bond woes are grabbing headlines. Get used to it. The S&P 500's debt-fueled cash rewards program is over, and we will see more slippage from this point. Emerging markets may well turn out to be the safer bet in 2019.
This column does not necessarily reflect the opinion of the editorial board or Bloomberg LP and its owners.
Shuli Ren is a Bloomberg Opinion columnist covering Asian markets. She previously wrote on markets for Barron's, following a career as an investment banker, and is a CFA charterholder.