Will Donald Trump Stand Up to Seniors on Drug Prices?
(Bloomberg Opinion) -- President Donald Trump's drug pricing-push is about to run into what might be its most potent opponent yet: America's senior citizens. 
On Monday afternoon, the Trump administration released a proposal for rules that would make it easier for Medicare Part D prescription-drug plans to negotiate prices for a broader array of medicines than they do currently. That's arguably a good thing. But in order for this effort to have a real impact, plans will likely have to be able to restrict the access that senior citizens have had for more than a decade to certain classes of drugs.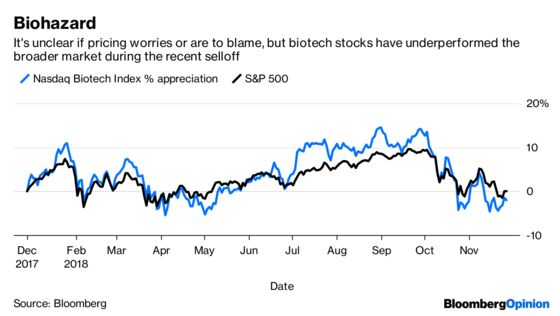 There are currently six "protected classes" of drugs in Part D, including certain cancer drugs, antidepressants and medicines taken after organ transplants. Part D prescription drug plans are required to cover essentially all drugs in these classes, which gives pharma nearly unrestricted pricing power. These protections were put in place with the legislation that created the Part D prescription-drug benefit in 2003, and they're part of the reason Medicare Part D is highly popular in its current form. 
The Trump administration's proposed rules, which are still in the formative stage, would loosen those guardrails. It would make it easier for drug plans to require that patients obtain prior approval for treatments in these classes before they are dispensed, and that patients try lower-cost options before moving on to more expensive drugs. It also would allow plans to exclude slightly tweaked new formulations of existing medicines as well as drugs that increase in price at a rate greater than inflation. 
In a lot of ways, these rules just import into part D the common cost-saving tactics that are prevalent in the commercial market. And it's difficult to negotiate lower prices without being able to say no to very expensive drugs in some cases. But the proposal would represent a substantial change to the settled status quo. Seniors generally wouldn't take kindly to increased restrictions on their ability to get prescribed drugs, even if they are intended to bring down prices for beneficiaries and save the government millions of dollars.
The past history of this kind of effort is fraught. The Obama administration attempted to end the protected status for two of the six classes, but saw its effort flounder under withering criticism from industry and patient groups. The current administration insists that protections embedded in Part D will preserve access. But while the latest plan retains each protected class, it would also impact all of them. As much as it would like to have it both ways, it is unlikely to get real cost savings without affecting the ability of seniors to freely access drugs.
There's an inherent trade-off between prices and access, but try telling that to a senior who has to jump through hoops to get a prescribed drug. Allowing drug plans to restrict access to high-priced cancer drugs would be especially controversial, and the Trump administration would risk serious political backlash if it went forward with such a plan. In 2016, 53 percent of voters over 65 supported Trump, while 45 percent went for Hillary Clinton, so any complaints will be heard very loudly. 
The pharma lobby is one thing. The potential political muscle of the senior set is quite another.
This column does not necessarily reflect the opinion of the editorial board or Bloomberg LP and its owners.
Max Nisen is a Bloomberg Opinion columnist covering biotech, pharma and health care. He previously wrote about management and corporate strategy for Quartz and Business Insider.