Will Apollo Follow Where Bain Fears to Tread?
(Bloomberg Opinion) -- To lose one private equity bidder may be regarded as a misfortune; to lose two would be more than expensive. RPC Group Plc, one of Europe's biggest makers of packaging, is in an awkward spot after Bain Capital withdrew from negotiations on Monday, leaving Apollo Global Management as the only remaining identified suitor.
For shareholders, the consequence of a no-deal outcome would be ugly. At best, they face an offer likely pitched at a low premium, or else a sharp drop in the share price.
Bain and Apollo's interest emerged in September, not long after RPC's chairman unsubtly complained at a shareholder meeting about how the company was being snubbed by the stock market. Repeated extensions to talks have created the impression that no one is in a hurry to get RPC boxed up.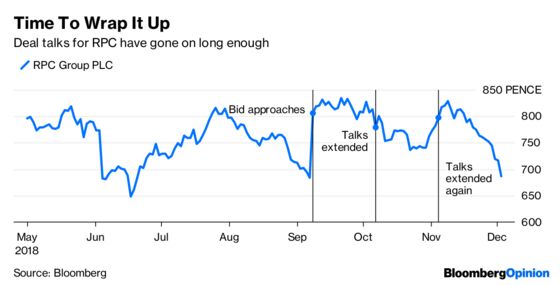 The latest extension goes to Dec. 21 instead of the four weeks seen previously. Impending holidays aside, that suggests we're nearing the endgame.
The bull case is that Apollo is deadly serious, having walked away from auctions for Akzo Nobel NV's specialty chemicals business and Unilever NV's spreads operation. The downside of being a disciplined buyer is that can you end up under greater pressure to put your unspent capital to work. What's more, Apollo may feel more comfortable sewing up a deal if it's the only bidder, although that status hasn't been confirmed.
The question of price remains. Assume there are no other suitors and RPC just wants Apollo on the hook. A bid at about 835 pence a share would be necessary to beat the stock's highest price since the takeover talks emerged. This would be 22 percent more than the shares' undisturbed level. That's low for M&A – but RPC's hand is weak.
Under a no-deal scenario, the shares would be likely to fall below where they were just before discussions emerged. A 10 percent discount to their pre-talks level would imply a floor of 615 pence.
Crudely put, the stock's current price of about 687 pence prices in a two-thirds chance of the shares falling to that undisturbed price and a one-third chance of an offer in the low eight hundreds of pence a share. That makes sense.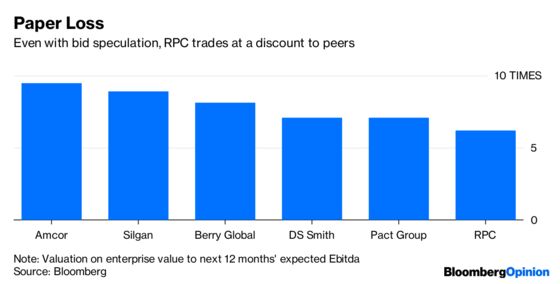 RPC is still cheap on conventional metrics. That's because investors have lost faith in its ability to pursue its strategy of one acquisition after another, with some analysts voicing deep concerns that M&A has obscured weak underlying growth. Even a deal at a premium would still put the RPC's valuation at the low end of where peers trade on the stock market.
Maybe Apollo sees a chance to carry on RPC's consolidation in private, and exit at a higher valuation than it buys in – an unusual game-plan for private equity. But that logic would have applied to Bain too. Shareholders will be hoping RPC doesn't end up being another example of Apollo's restraint.
This column does not necessarily reflect the opinion of the editorial board or Bloomberg LP and its owners.
Chris Hughes is a Bloomberg Opinion columnist covering deals. He previously worked for Reuters Breakingviews, as well as the Financial Times and the Independent newspaper.