How Swiftly Should a Hedge Fund Respond to a Whistle-Blower?
(Bloomberg Opinion) -- GAM Holding AG revealed on Tuesday that its investigation and subsequent decision to suspend star fund manager Tim Haywood was prompted by a whistle-blower. Its treatment of the internal informant appears to have been exemplary. But investors who stand to lose a chunk of change as Haywood's more than $7 billion of funds are unwound might wonder why it took the firm eight months to bench the portfolio manager.
To recap: On July 31, GAM said it was suspending the head of its flagship absolute return bond funds after investigating "some of his risk management procedures and his record-keeping." The firm subsequently said Haywood was in the "unusual position" of being able to act as the sole signatory to deals with external parties, and that it was strengthening its rules requiring two individuals to sign off on such agreements.
It turns out that the internal whistle-blower first raised concerns about Haywood's conduct in November, at which point GAM started its investigation. In March, the informant "expanded on the initial concerns" and contacted the Financial Conduct Authority, the U.K. financial services regulator. It wasn't until the end of July that the company announced Haywood's suspension.
That seems an awfully long time to spend reviewing an executive's conduct, no matter how complex Haywood's investments were and no matter how scrupulous GAM was in being fair to both its star fund manager and his accuser. That slowness has been costly – both for GAM in terms of its share price deterioration, and for clients trapped in Haywood's funds since the end of July.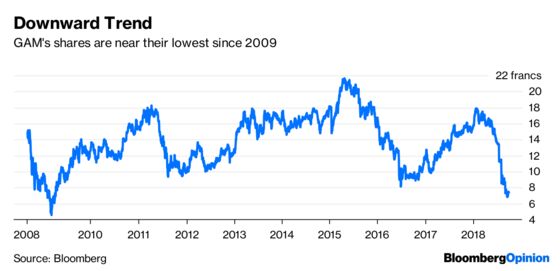 Investors have pulled an additional $3 billion from funds not managed by Haywood, Bloomberg News reported earlier this month. With GAM's market capitalization down to less than 1.2 billion Swiss francs ($1.2 billion) from about 2.9 billion francs in mid-January, investment bankers are preparing to find buyers for the firm if it decides to put itself up for sale.
In August, GAM said customers would get back between 74 percent and 87 percent of their investments in Haywood's Luxembourg- and Ireland-domiciled funds by the end of this month. It has since increased that estimate for three Luxembourg funds to between 82 percent and 86 percent, and to as much as 91 percent for the Irish funds; further payouts will depend on "market conditions," GAM says.
But investors in Haywood's Cayman Islands-based hedge fund, which had about $2.8 billion of assets before it was frozen, will only get about 65 percent of their money back initially, with subsequent payments depending on the firm's ability to offload its presumably illiquid securities.
"At the heart of every modern financial services firm's systems and controls should be a culture that encourages people to come forward with concerns about colleagues' behavior," GAM Chief Executive Officer Alexander Friedman said on Tuesday. "The only way to maintain that culture is to protect those who are brave enough to do so and to hold accountable those found to be breaking the rules."
He is absolutely right. But the first obligation must surely be to customers. Investors have every right to question the eight-month delay between GAM's management first being alerted about Haywood's alleged conduct and the move to freeze his funds.
This column does not necessarily reflect the opinion of the editorial board or Bloomberg LP and its owners.
Mark Gilbert is a Bloomberg Opinion columnist covering asset management. He previously was the London bureau chief for Bloomberg News. He is also the author of "Complicit: How Greed and Collusion Made the Credit Crisis Unstoppable."