Why Did It Take an Activist So Long to Call BT?
(Bloomberg Opinion) -- David Einhorn's decision to take a stake in BT Group Plc may provide just the boost needed to convince Britain's former national carrier to sell a stake in its traditional network. That probably won't satisfy the activist investor.
When it became apparent back in May that BT was willing to at least consider selling a stake in its Openreach operation, CEO Gavin Patterson's goal seemed to be to fend off prospective activist investors and keep his job.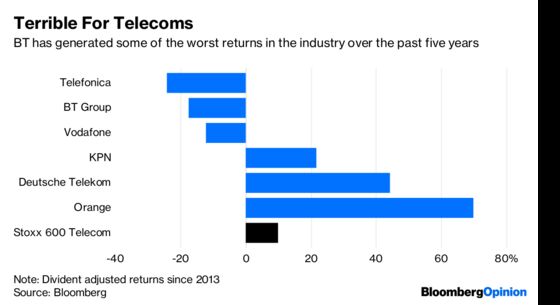 It's remarkable that it took this long for an activist to take a stake. While BT shares have rebounded from their low in May, they are still trading at close to their lowest level since 2013. Investors have endured losses over that period, even when taking dividends into account.
With the dividend set to be flat this year and next, there's little reason for shareholders to be optimistic, particularly as the industry revs up for a new cycle of investment in fiber optic and 5G networks.
Greenlight, though, may help convince BT Chairman Jan du Plessis to finally sell a stake in Openreach, something that could be good news for shareholders.
As part of the parent, the network is undervalued: RBC analysts have valued it at as much as 25 billion pounds ($33 billion), more than BT's current market value of 24 billion pounds. Unlocking at least some of that would make sense.
While the fixed-network arm has so far been a healthy free cash flow contributor, that will come under pressure as spending on building out fiber networks surges. Openreach currently generates about 35 percent of BT's free cash flow, but only about 22 percent of revenue.
Spending on fiber and 5G will see BT's capital expenditure jump to 3.9 billion pounds by 2020, from 3.4 billion pounds in the 12 months through March – and there's a constant risk that regulators demand the company pick up the pace of investment and offer more generous contracts to customers.
So selling at least a minority stake in Openreach now would make sense. But Einhorn is likely to press for a complete sale of the business, something that would be too risky and complicated. Divvying up the company's 57 billion pounds of pension liabilities will be particularly tricky.
Still, selling a minority would generate the funds needed for investment, and ensure BT still gets a chunk of its recurring cash.
While BT has headroom to raise more debt, JPMorgan analysts estimate that leverage could rise to 3.1 times Ebitda by the time spending on its network is accounted for – more than the industry average. By selling a minority stake in Openreach, BT could fund its short- to mid-term capital needs, and ensure it still has the free cash flow to service existing debt and keep paying dividends in the long-term.
Einhorn might do enough to convince du Plessis of the merits of a divestment, but management needs to retain a majority of the business and ensure the proceeds are used to fund investment, rather than passing them straight to investors. That may not be what the activist and other shareholders want. Whoever replaces Patterson can expect some angry phone calls.
This column does not necessarily reflect the opinion of the editorial board or Bloomberg LP and its owners.
Alex Webb is a Bloomberg Opinion columnist covering Europe's technology, media and communications industries. He previously covered Apple and other technology companies for Bloomberg News in San Francisco.