When Gucci and Peppa Pig Run Off, the Fun's Over
(Bloomberg Opinion) -- Gucci T-shirts are a wardrobe favorite in China right now. But not all of the double Gs and green and red stripes on show are the real thing.
One of the most entertaining plays on the label's popularity features two of the country's current loves, Peppa Pig and Gucci, with a few tweaks to its logo.
The unofficial mash-up may be fun, but it underlines one of the key risks for the brand: that it becomes overexposed. Add in extremely tough sales comparisons, and broader concerns about a Chinese slowdown and the worries are stacking up for investors in its parent, Kering SA.
Little wonder that Kering shares fell as much as 7.8 percent on Friday after second-quarter underlying sales growth at the group's biggest luxury house came in a touch below expectations. The 40.1 percent increase in Gucci's second-quarter organic growth was slightly less than the consensus of analysts' estimates, and also below the 48.7 percent achieved in the first quarter of 2018.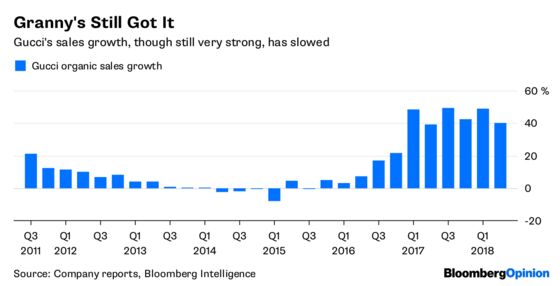 Make no mistake, Gucci is still going gangbusters, with the sort of sales growth that other luxury brands would sell their granny chic for. The label's operating margin increased by 6.2 percentage points to a record 38.2 percent.
It was inevitable that the label would start to slow after three years of phenomenal growth, and Kering had anticipated this to some extent.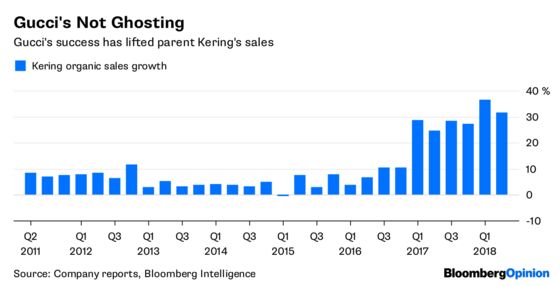 It has already spun off the majority of its stake in Puma SE to hone its focus on luxury. The hope is that removing the lower-margin sportswear arm will drive its price earnings multiple closer to that of Hermes International, which commands a premium to peers.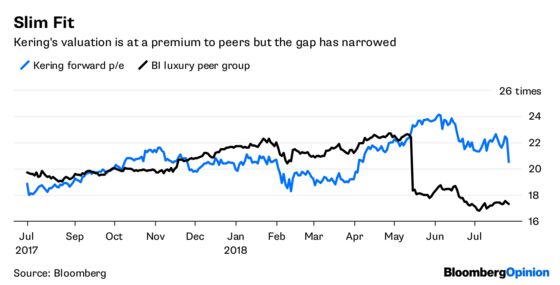 Kering has also begun tidying up its luxury portfolio, selling its stake in Stella McCartney back to the designer. It is in talks on a similar deal at Christopher Kane. 
The company has also been developing its smaller brands, such as Balenciaga. Like Gucci, the logo-heavy label has found favor with millennial shoppers. Kering also noted strength at Alexander McQueen.
But Gucci accounts for about 60 percent of the group's luxury sales, so it is by far the biggest driver of momentum. Even after Friday's stumble, the shares are up 65 percent over the past year, helped by Gucci defying gravity for so long, and the Puma spinoff.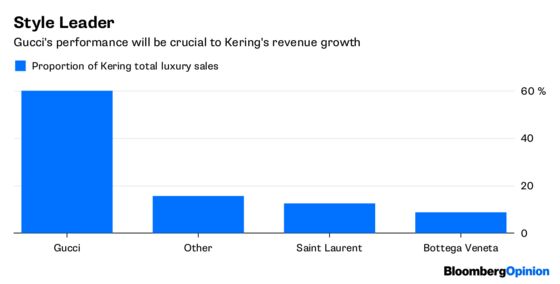 Progress from here looks harder. Kering's execution in reviving Gucci has been perfect. It needs to be just as seamless in managing the shift from stellar to merely stable, particularly if it is to reach its target of lifting the brand's annual sales from 6 billion euros ($7 billion) last year to 10 billion euros.
Further focus on the smaller brands should help, but it's hard to see them making up the slack from Gucci in the near term. For the group, in the longer term large-scale merger and acquisition activity may make some sense, particularly as it is generating more cash.
For now, the investment case is all about whether the superstar can achieve a soft landing. That looks a possibility, if the group can carefully develop Gucci's distinctive look and take steps to prevent overexposure. Nevertheless, for investors, that's a much less exciting place to be than a Gucci Peppa Pig party.
This column does not necessarily reflect the opinion of the editorial board or Bloomberg LP and its owners.
Andrea Felsted is a Bloomberg Opinion columnist covering the consumer and retail industries. She previously worked at the Financial Times.