Vodafone Finally Catches Up with 5G Reality
(Bloomberg Opinion) -- It's counterintuitive: You cut the dividend, yet the shares rise.
That's exactly what happened to Vodafone Group Plc on Tuesday morning; maybe it was short-term relief that an industry known for its generous payouts was finally getting a sense of reality. Telecoms operators' historic tendency toward outsized dividends has tied up capital that might have been better spent on new technologies.
Since he was promoted to the position of Vodafone's chief executive in October, Nick Read has been adamant that the dividend was sustainable. But now he intends to cut it by 40 percent. It's hard to see how he had any choice.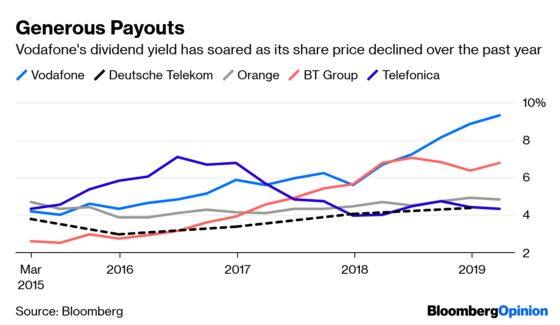 The British mobile carrier's finances are stretched to snapping point, so something had to give. Its 18 billion-euro ($20.2 billion) purchase of Liberty Global Plc's cable assets in Germany and eastern Europe has increased Vodafone's debt to 2.9 times Ebitda, above the peer average.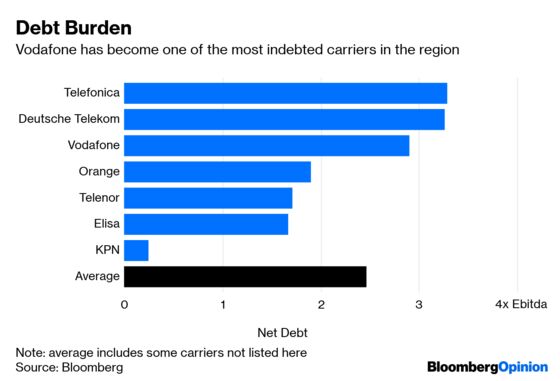 Meanwhile, Read is having to loosen the purse strings to acquire next-generation 5G mobile spectrum rights, which in turn will need hefty network investments. A German spectrum auction that was expected to reach about 5 billion euros between the four bidders has already hit 5.8 billion euros, with no end in sight. After an overpriced Italian auction last year, the German process might have pushed Vodafone beyond what it could afford without taking action on the shareholder payout.
Matching last year's 15 euro cent dividend (it is being cut to 9 euro cents) would have swallowed up 4 billion euros of cash. After spectrum and restructuring costs, Vodafone's free cash flow totaled 4.4 billion euros in the fiscal year that ended in March. Given the higher German 5G costs, Read had little room to service his chunky debt pile and still invest in networks. He's targeting debt of 2.5 times Ebitda in "the next few years." That hazily defined timeline should give him leeway to spend more, if he sees fit.
Vodafone's 36 percent stock decline over the past year also makes it easier to justify the cut, since the firm's dividends now yield almost double those of its peers. Its 9.8 percent yield compares to Orange SA's 5.1 percent and the 4.7 percent at Deutsche Telekom AG. BT Group Plc, also under pressure on its dividend, returns 7.3 percent to investors.
Read has made the right move. As I've written before, telecoms operators have struggled to be the main beneficiaries of new communications technologies. Freeing up capital makes it easier to address that problem.
This column does not necessarily reflect the opinion of the editorial board or Bloomberg LP and its owners.
Alex Webb is a Bloomberg Opinion columnist covering Europe's technology, media and communications industries. He previously covered Apple and other technology companies for Bloomberg News in San Francisco.