Britain's Hottest Stock Falls Back to Earth
(Bloomberg Opinion) -- No U.K. stock had delivered better returns for investors this decade than Victoria Plc, supplier of rugs to Queen Elizabeth II.
But a profit warning on Monday brought this magic carpet down to earth – and provided investors with a textbook example of the risk of backing companies with a penchant for growing through acquisitions.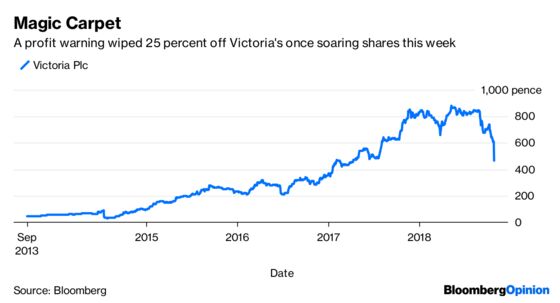 In a trading update time to coincide with an inaugural 450 million-euro ($512 million) bond offering, Victoria warned profit margins are being squeezed in the U.K and continental Europe, markets where it has spent heavily over the past 12 months to acquire a several tile companies.
Investors recoiled, sending the stock down 25 percent. The shares are now down almost 50 percent from their peak in May, paring Victoria's market capitalization to a less-than-regal 587 million pounds. Invesco Ltd. is likely to be feeling particularly green: the money manager had lifted its stake in the company to 19 percent from 5 percent over the past year, according to Bloomberg data.
By contrast, the short-sellers that had increased their bearish bets against the company in recent months are sitting pretty. As is Victoria's chairman, Geoff Wilding. He sold five million shares in August when the stock was still close to its record high.
The timing of that sale, which netted him more than 40 million pounds, looks a little unfortunate in retrospect. The same could be said for the company's acquisition spree, something I first looked at in August.
With markets as volatile as they are, companies that rely on debt and an ever-inflating stock price to fund deals must execute flawlessly and hope economic fundamentals don't trip them up. If profits disappoint, investors can start to doubt the wisdom of roll-up strategies, and then run swiftly for the exits.
Victoria is a case in point. It has purchased more than a dozen businesses since 2013, which has helped to diversify its geographic footprint and product offering.
But flooring isn't a high-growth business and hence the more than 6,000 percent return Victoria generated for shareholders who reinvested their dividends between 2010 and August always felt a bit incongruous.
Other metrics should have made investors pause for thought too. Victoria's deals were becoming more expensive as time went on; they triggered some chunky one-time costs; and they also left the balance sheet stuffed with goodwill.
After the bond issue, Victoria's net debt will swell to about 350 million pounds, or about 3 times adjusted proforma Ebitda. That measure might exaggerate Victoria's ability to generate cash, though. Free cash flow was just 11 million pounds in the year through March, according to Bloomberg data.  
Victoria's leverage would be higher still but for the generosity of equity investors, who have topped up its share capital to help pay for more deals. Repeating that feat could become more difficult: in May, shareholders were willing to pay 19 times anticipated earnings to hold the stock; that multiple has since contracted to 10 times.
For now, management appears undeterred, saying it still sees "a large number of high-quality acquisition targets."
The market's message to Victoria looks more equivocal. Perhaps it's time the company gave the swashbuckling deal-making a rest.
This column does not necessarily reflect the opinion of the editorial board or Bloomberg LP and its owners.
Chris Bryant is a Bloomberg Opinion columnist covering industrial companies. He previously worked for the Financial Times.