United Technologies Breakup Is a Matter of When, Not If
(Bloomberg Opinion) -- A United Technologies Corp. breakup is a matter of when and how, not if.
The $104 billion maker of industrial goods ranging from Pratt & Whitney jet engines to Carrier air conditioners reported better-than-expected third-quarter results on Tuesday and raised its 2018 guidance yet again. But the numbers themselves were almost an afterthought as investors eyed an update on the still-pending $30 billion acquisition of avionics maker Rockwell Collins Inc. and the review of United Technologies' conglomerate structure. The company's medley of aerospace, HVAC and elevator businesses has long felt incongruous, and the acquisition of Rockwell Collins and its bounty of cash flow smooths the path to standing up the jet-engine and aircraft-parts businesses as a separate company. But first, the Rockwell Collins deal has to close.    

The acquisition was expected to be completed in the third quarter, but wasn't, a delay United Technologies has blamed on a problem with one of the divestitures required by antitrust regulators. Approval from the Justice Department was finally locked up this month, and United Technologies expects China's sign-off to follow imminently. Executives say they have no reason to believe the deal has become a political football akin to Qualcomm Inc.'s $44 billion purchase of NXP Semiconductors NV, which collapsed after Chinese regulators dragged their feet. There have been no additional requests or discussions with China's State Administration for Market Regulation. It's just a matter of waiting.  
The portfolio review has been ongoing in the meantime, and United Technologies CEO Greg Hayes says the company is on track to share the results in mid-November. He's been increasingly supportive of a breakup, perhaps egged on by the arrival of activist investors Bill Ackman and Dan Loeb, both of whom back a split. Hayes previously pushed back on the idea because of the extra costs associated with dissolving central infrastructure and establishing independent companies. But then, in September, he acknowledged that while the added tax expense and overhead costs are a big number, "in the context of a $100 billion market cap, it's not that big." That's especially true if you believe, as I do, that the full value of United Technologies's businesses isn't being realized in the current structure.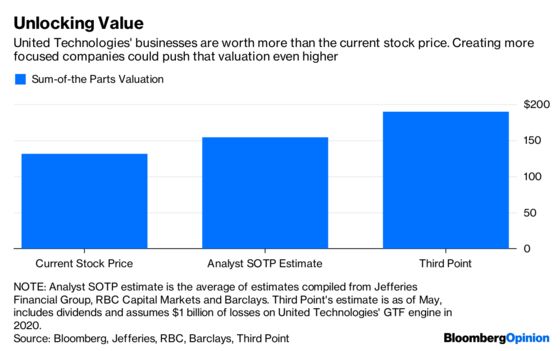 United Technologies spent $23 million in the third quarter on its portfolio review, so it appears to be taking this quite seriously. After all the run-up and attention, it's hard to imagine the company doing anything less than a full-blown breakup. The jet-engine and aircraft-parts businesses appear likely to become their own company. But United Technologies has options when it comes to the Otis elevator and climate-controls divisions. It could spin them off as well. Or it could find buyers for them.
Otis was a disappointment in the third quarter; the unit's adjusted operating margin shrank by 240 basis points to 15.2 percent, well short of analysts' estimates. The business is getting whacked by rising raw-material and labor costs and isn't able to raise prices quickly enough to offset that. United Technologies now expects Otis's operating profit to be down as much as $75 million year over year and doesn't believe the division will make its 2020 profit goals. Otis could benefit from more aggressive cost-cutting. That could come at the hands of a private equity firm or via consolidation, though the latter is tricky from an antitrust perspective. Speculation has been growing about a possible merger of Thyssenkrupp AG and Kone Oyjs elevator businesses after Handelsblatt reported large shareholders of the companies had held talks about such a proposal a few years ago.
Meanwhile, Lennox International Inc. CEO Todd Bluedorn earlier this week touted consolidation among HVAC makers as a way to cut costs and spread digital investments across a broader portfolio. United Technologies' Carrier division could combine with Johnson Controls International Plc's York HVAC business without major antitrust concerns over market share, Bluedorn said. And it's possible a Carrier and Lennox deal could get the green light, he said, depending on "what's being enforced at the time." United Technologies' Hayes was less sanguine about the antitrust risk of a major HVAC deal, but clearly the appetite is there and there's nothing to stop a buyer from lobbing in a bid even if the board initially decides on a spinoff.
There are many possibilities, the least likely of which is that nothing happens.
This column does not necessarily reflect the opinion of the editorial board or Bloomberg LP and its owners.
Brooke Sutherland is a Bloomberg Opinion columnist covering deals and industrial companies. She previously wrote an M&A column for Bloomberg News.