Unilever's New CEO Can Clear Out the Kitchen
(Bloomberg Opinion) -- Paul Polman, Unilever NV's chief executive officer, has paid the price for the company's mishandling of its plan to consolidate its headquarters in the Netherlands. His successor will have to address this to achieve the transformative M&A it needs. 
The (still) Anglo-Dutch consumer goods group said Thursday that Polman would retire, to be replaced by Alan Jope, head of the beauty and personal care business.
Unilever began the process of identifying Polman's successor a year ago. So his departure was well flagged. But the timing was probably hastened by the decision in October to scrap the plan to simplify the corporate structure.
The CEO was invisible in the campaign to convince U.K. shareholders to back the deal. The heavy lifting was left to finance director Graeme Pitkethly, making it much more likely that he would be the one to carry the can for the embarrassing climbdown rather than his boss.
Its not clear whether Pitkethly wanted the top job – he was certainly regarded externally as a possible contender.
Having been the public face of the proposed Dutch move, and now confronted with a new leader, it will be interesting to see if he sticks around. It's a similar situation with other internal candidates who have lost out on the top job. One of Jope's first tasks will be galvanizing whichever executives remain.
As for Polman, he would no doubt have preferred to go out on a high, rather than in the wake of the Dutch debacle. Though the shares delivered an annual return of about 15 percent since he took over in January 2009, well ahead of the 9 percent annual return from the FTSE 100 index, his record at Unilever is mixed.
Before Kraft Heinz Co's $143 billion bid in February 2017, the shares languished. Only once Kraft withdrew did Polman make some progress. He sold off the spreads business, ramped up cost savings and bought back shares. He also pledged to lift the operating margin to 20 percent by 2020, while pursuing an annual sales growth target of 3-5 percent.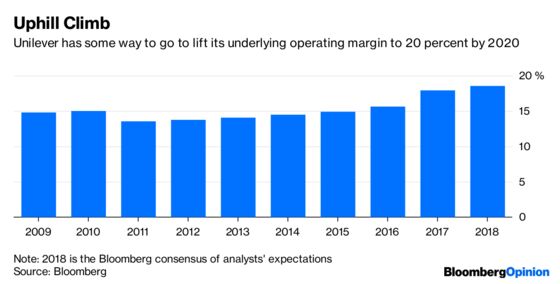 Jope, a Unilever lifer, has his work cut out. He will have to address the delicate issues around Unilever's domicile and structure, which are still unresolved. His predecessor's operational targets look ambitious against the backdrop of persistent sluggish sales growth in the consumer goods sector.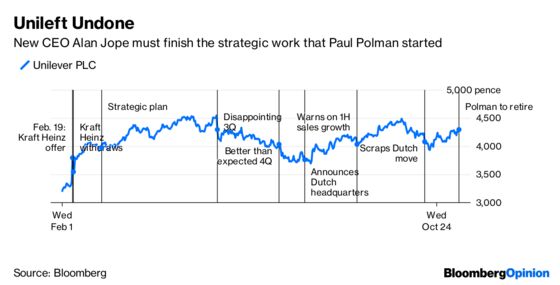 And most of all, he will have to address the company's broader strategic direction, something that Polman only belatedly began to look at. His recent area of focus dovetails nicely with what Unilever really needs – to become more of a beauty and personal care company. 
A big deal in this area – Colgate-Palmolive Co. and Estee Lauder Cos are the most obvious candidates – would achieve this, as would a sale or IPO of food.
However, as Unilever itself has pointed out, large scale M&A could be more difficult given the continuing dual structure. A deal isn't impossible, but the company would be much more reliant on the debt markets to fund it. 
For all of Polman's statesman-like image, he hasn't managed to complete the core of what he needed to do. For his successor, that's actually a good thing. He gets a clean sheet of paper on which to draw up his vision for Unilever.
This column does not necessarily reflect the opinion of the editorial board or Bloomberg LP and its owners.
Andrea Felsted is a Bloomberg Opinion columnist covering the consumer and retail industries. She previously worked at the Financial Times.