Did You Fail at Veganuary? Supermarkets Won't
(Bloomberg Opinion) -- Think going vegan will be good for the planet and your health? It's even better for supermarkets' margins.
The U.K. meat-free food market, which covers both vegetarian and vegan items, may have been worth 740 million pounds ($969 million) in 2018, and could reach 1.1 billion pounds by 2023, according to Mintel. There's certainly some momentum behind this: the number of people taking part in Veganuary, giving up meat, dairy, eggs, honey and some alcohol for the month of January, has soared this year. 
Consequently, supermarkets are investing heavily in this area. Retailers including Wm Morrison Supermarkets Plc and Marks & Spencer Group Plc have recently launched plant-based ranges. J Sainsbury Plc, Tesco Plc and Waitrose have all expanded theirs. Even Greggs Plc, best known for its meaty feasts, such as the steak bake, has introduced a vegan-friendly sausage roll.
Grocers might be trying to do well by doing good, but they are also playing to their traditional strengths.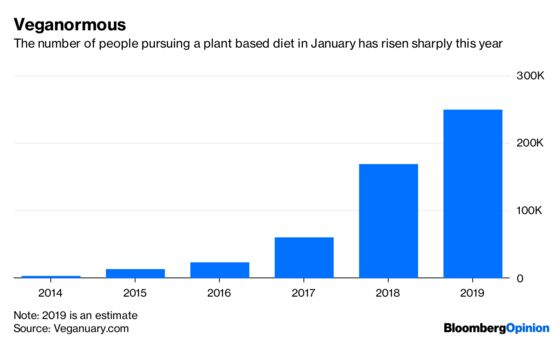 Prepared vegetables, such as washed, trimmed and packaged celery sticks, are now a fresh food mainstay. They are also very high margin, because grocers are able to charge for doing what is fairly minimal work for them.
Retailers have taken this concept even further over recent years, offering the likes of courgetti (ribbons of courgette used instead of pasta), and rice made out of cauliflower.
Plant-based meals are more complicated, so retailers can charge a premium for their efforts. What's more, vegetables tend to be cheaper than meat and cheese. A vegan shepherd's pie, for example, will cost less to make than an equivalent dish that contains lamb, but the cheaper input costs won't necessarily be reflected in the price charged to customers.
It's a similar picture with products that are free from gluten.
Some are more expensive to produce, such as bread, where a gluten substitute is needed. But other products, such as gluten-free sausages, don't incur much extra cost.
Even so, vegan and free from items tend to be presented as premium products, so the prices charged are higher.
What's more, chains selling them can attract new shoppers. A consumer with someone in their family who has a food intolerance or follows a plant-based diet may choose a supermarket based on its ability to cater to these particular needs. But while they're in the store, they'll buy other products. And as these customers tend to more affluent, they will spend more.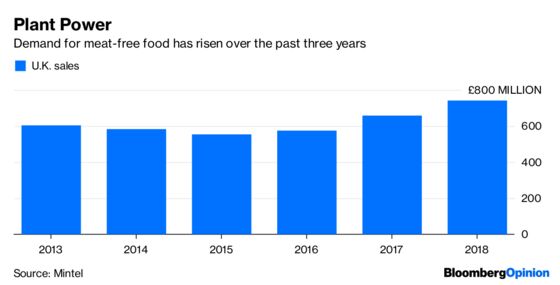 It isn't all pure profit — there are some additional costs involved in selling vegan or free from foods.
Products tend to be made in smaller volumes, by a more diverse supply base, so there are fewer economies of scale available. To inject more taste into vegan food, producers will look for unusual ingredients, which can also be pricier. And of course, extra effort needs to be made to avoid cross-contamination with allergens present in conventional foods and comply with the appropriate standards. 
Meanwhile, demand is more volatile than for standard products. The current interest in plant based products might wane in February, leaving unsold vegan sandwiches and ready meals. With many standard items, such as a chicken, sales are pretty steady all year round.
Supermarkets have also been devoting more space to vegan and free from products. Given that stores will, for example, sell fewer loaves of gluten-free bread than conventional baked goods that will weigh on the returns from this category.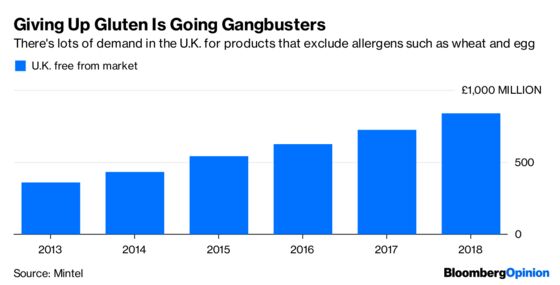 But, taking all this into consideration, there is still a decent profit to be made from catering to changing consumer tastes.
While demand for vegan food is growing, and it is attracting a lot of attention, the category is still small. It accounts for perhaps a very small share of grocers' products. So even the attractive profitability won't make much difference to supermarkets' margins, which are as thin as a slice of tofu bacon.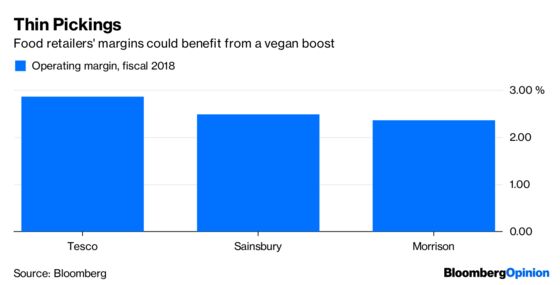 That might change over the next decade or so. The danger is that as demand for these products rises, so does price competition. While that is good news for those consumers needing to avoid certain ingredients, or choosing a plant based diet, it is less welcome for retailers.
Already, discount chains such as Iceland Foods and the U.K. arms of the German no-frills supermarkets, Aldi and Lidl, are making inroads, a sign of the pressure to come.
So supermarkets' tasty margins might last as long as those new year, new you, resolutions.
This column does not necessarily reflect the opinion of the editorial board or Bloomberg LP and its owners.
Andrea Felsted is a Bloomberg Opinion columnist covering the consumer and retail industries. She previously worked at the Financial Times.